The guard in Morgan Le Faye's jail guards the Knights of the Round Table during King's Ransom. You can use the Telekinetic Grab spell on him to obtain his hair clip, which acts like a lock pick to unlock the jail door.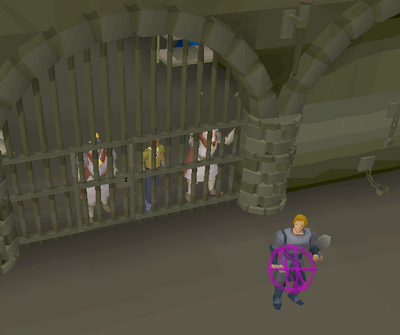 NPCs

Gossip • Anna • Pierre • Hobbes • Louisa • Mary • Donovan • Stanford • Judge • Prosecutor • David • Morgan Le Faye • Merlin • Wizard Cromperty • Alan • Renegade Knight

Guards

Sinclair Mansion • Courthouse • King's Ransom

Knights of the Round Table

King Arthur • Sir Bedivere • Sir Gawain • Sir Kay • Sir Lancelot • Sir Lucan • Sir Palomedes • Sir Pelleas • Sir Tristram

Items

 Scrap paper •  Address form •  Black knight helm •  Holy grail •  Animate rock scroll •  Criminal's thread •  Hair clip

Rewards

 Antique lamp

Locations

Keep Le Faye • Black Knights' Fortress • Seers' Village Courthouse

Music

Related
Community content is available under
CC-BY-SA
unless otherwise noted.