GTA: The Criminal Enterprises - The Loop
Play Sound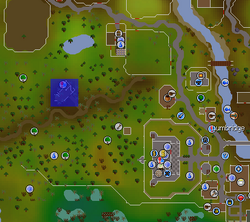 The H.A.M. Hideout is the base of operations for the H.A.M. organization. It is located west of the Lumbridge general store. To enter it, the player will need to pick the lock on the trapdoor to get in. This can be done with the player's hand, but a lockpick will increase the players chance of success.
Notable features
With 15 Thieving, a player may pickpocket the female H.A.M. members for H.A.M. clothing and other items (including level 1 clue scrolls).
At 20 Thieving, the same can be done with male H.A.M. members, for the same items, although better rates at higher items.
On the third time a player is caught thieving H.A.M. members that said player will be kicked out of the dungeon or be locked up in the cell with Jimmy the Chisel, which will require you to lockpick the door to exit.
Store rooms
Players who have progressed at least halfway through Death to the Dorgeshuun can access the secret dungeon inside the hideout. The secret entrance is located just south of the podium.
Quests
All the following quests are involved with the HAM dungeon:
Personalities
Monsters
Music
Members

| | |
| --- | --- |
| Named Members | |
| Other Members | |

Items

Locations

H.A.M. Hideout • H.A.M. Store room

Related