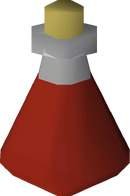 Hag's poison is a quest item used in The Feud quest. It is made for the player by Ali the Hag after giving her a full snake basket and a bucket of Ugthanki dung. The poison must then be slipped into a beer on the table a the inn in Pollnivneach in order to kill a traitor.
NPCs

Ali Morrisane • Ali the Camel Man • Ali the Camel • Ali the Operator • Ali the Hag • Ali the Kebab seller • Ali the Mayor • Street urchin • Traitorous Ali • Ali the Barman • Ali the Snake Charmer • Bandit • Desert snake • Drunken Ali • Menaphite Thug • Villager

Enemies

Menaphite Leader • Bandit Leader • Tough Guy • Bandit champion

Items

 Keys •  Jewels •  Note (numbers) •  Note (Fibonacci) •  Kharidian headpiece •  Fake beard •  Desert disguise •  Receipt •  Hag's poison •  Red hot sauce •  Ugthanki dung •  Snake charm •  Snake basket •  Oak blackjack •  Willow blackjack •  Snake basket full •  Super kebab •  Karidian disguise

Locations

Miscellaneous
Community content is available under
CC-BY-SA
unless otherwise noted.