Fire Emblem Warriors: Three Hopes - The Loop
Play Sound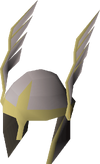 The Helm of Neitiznot is awarded to players upon completion of the The Fremennik Isles quest, and requires 55 Defence to equip. Whilst it is tradeable, players may only equip the helm if they have completed the quest.
Its stats are roughly akin to those of a Berserker helm; however it has an additional +3 prayer bonus, +1 crush and +3 magic defence bonuses, and does not have negative -5 magic and ranged attack bonuses. The helmet's substantial bonuses along with it being non-degradable make it one of the most frequently used helmets.
If lost, players can obtain another helm from Mawnis Burowgar in Neitiznot for a fee of 50,000 coins. The drop trick may be used to obtain multiple helmets in this fashion. Alternatively, it can be purchased from the Bounty Hunter Store for 150,000 points per helmet.
Trivia
Upon release, casting High Level Alchemy on the helmet would yield more coins than it costs to buy; however, this was swiftly noticed and corrected by the developers.
After the quest is complete, Mawnis Burowgar is seen without the helmet on as the player is named champion and the rightful owner of the helmet.
Standard

| | |
| --- | --- |
| Medium helmets |  Bronze •  Iron •  Steel •  Black •  White •  Mithril •  Adamant •  Rune •  Dragon |
| Full helmets |  Bronze •  Iron •  Steel •  Black •  White (Initiate • Proselyte) •  Mithril •  Adamant •  Rune •  Dragon |

Treasure Trails

| | |
| --- | --- |
| Trimmed | |
| Gold-trimmed |  Bronze •  Iron •  Steel •  Black •  Mithril •  Adamant •  Rune •  Gilded med •  Gilded full •  Dragon |
| Black heraldic | |
| Adamant heraldic | |
| Rune heraldic | |
| Rune god | |

Other

| | |
| --- | --- |
| Slayer helmets |  Regular (imbued) •  Black (imbued) •  Green (imbued) •  Red (imbued) •  Purple (imbued) •  Turquoise (imbued) |
| Fremennik helmets |  Regular •  Warrior •  Berserker •  Rock-shell •  Neitiznot |
| Shayzien helmets | |
| Barrows helmets | |
| Serpentine helmets | |
| Miscellaneous |  Khazard •  Spiny •  Shaman mask •  Black mask •  Ram skull •  Tyras •  Fighter hat •  Void melee •  Granite •  Dwarven •  Obsidian •  3rd age •  Statius's |
Yak-hide armour
Rock-shell armour
Spined armour
Skeletal armour

Fremennik robes

Rings

 Warrior (imbued) •  Berserker (imbued) •  Seers (imbued) •  Archers (imbued)

Helms

 Fremennik •  Archer •  Berserker •  Farseer •  Warrior •  Helm of neitiznot

Fremennik cloaks

 Cyan •  Brown •  Blue •  Green •  Red •  Grey •  Yellow •  Teal •  Purple •  Pink •  Black

Fremennik shirts

Others

 Fremennik blade •  Fremennik shield •  Fremennik shield (The Fremennik Isles)
NPCs

Jatizso

King Gjuki Sorvott IV • Thorkel Silkbeard • HRH Hrafn • Vanligga Gastfrihet • Flosi Dalksson • Hring Hring • Keepa Kettilon • Raum Urda-Stein • Skuli Myrka • Bork Sigmundson

Neitiznot

Mawnis Burowgar • Fridleif Shieldson • Kjedelig Uppsen • Trogen Konungarde • Slug Hemligssen • Thakkrad Sigmundson • Honour guard

Enemies

Items

 Hair •  Split log •  Arctic pine logs •  Royal decree •  Yak-hide •  Cured yak-hide •  Yak-hide body •  Yak-hide legs •  Fremennik shield •  Decapitated head •  Helm of neitiznot

Silly jester costume

Tax bag

Unobtainable

 A jester stick •  Apricot cream pie •  Bulging taxbag •  Documents

Locations

Jatizso • Jatizso mine • Neitiznot • Rellekka • Ice Troll Caves

Music

Island of the Trolls • Jester Minute • Major Miner • Norse Code • Ogre the Top • Volcanic Vikings

Related