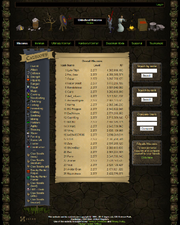 The HiScores are a feature of the Old School RuneScape website which ranks players by their experience in skills and score in minigames. Unlike the RuneScape HiScores, there are no requirements to be shown on the HiScores other than having logged in since the last inactivity sweep.
The board can also be separated into the different game modes, this includes the standard HiScores, Ironman mode, Ultimate Ironman mode, Deadman Mode, Seasonal Deadman Mode, Hardcore Ironman, and Tournament Hiscores.
The Old School RuneScape HiScores can be found on the official website here.
History
| Category | Release Date |
| --- | --- |
| Skills/Overall | February 22, 2013 |
| Bounty Hunter | July 28, 2016 |
| LMS - Rank | August 11, 2016 |
| Clue Scrolls | January 26, 2017 |
| Game Mode | Release Date |
| --- | --- |
| Hiscores | February 22, 2013 |
| Ironman | October 13, 2014 |
| Ultimate Ironman | October 13, 2014 |
| Deadman Mode | October 29, 2015 |
| Seasonal | March 26, 2016 |
| Hardcore Ironman | November 10, 2016 |
| Tournament | December 4, 2017 |
Gallery