Lv 28 Lv 28 (Zeah) Lv 42 Lv 47
Hobgoblins are low-to-medium levelled monsters which hit fairly hard for their combat level. They come in two variations outside of the God Wars Dungeon, with the level 28 variant usually unarmed and the level 42 variant wielding a spear, although some level 28 hobgoblins found northeast of the vinery on Zeah wield spears too. Both this peninsula and the peninsula west of the Crafting Guild contain many level 28 hobgoblins with no level 42 variants present.
Hobgoblins frequently drop limpwurt roots, which are sometimes sold by free-to-play players as a method of making money, although less often after the update that introduced large quantities of limpwurt roots to Nechryael and Kurask drop tables, which caused their price to crash.
Locations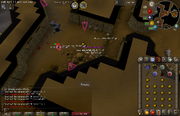 Drops
100%
Armour/Weapons
Runes
Herbs (Members Only)
Seeds (Members Only)
This monsters drops seeds from the allotment seed drop table.
Other
↑ Only dropped by those found in the Wilderness.
↑ Only dropped by those located in the Wilderness God Wars Dungeon. Drop rate decreases to 1/70 if one key is owned, and 1/80 if two are owned. If the medium or hard Wilderness Diary is completed the drop rate of 1/60 still applies until a player owns two or three keys, respectively.
Gem drop table
In addition to the drops above, this monster has access to the gem drop table.