Details
Start point
Speak to King Arthur in Camelot.
Official difficulty
Intermediate
Description
King Arthur is sending out his knights on a quest for the famous Holy Grail.

If you are a Knight of the Round Table go to King Arthur for further orders.

Length
Medium
Requirements
Items required

Recommended:

Enemies to defeat
Black Knight Titan (level 120)
Walkthrough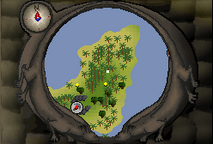 Travel northwest of Brimhaven to the northwestern peninsula (see the minimap image).
Stand under the tower and blow a magic whistle to be teleported to the Fisher Realm.
Fight the Black Knight Titan nearby on the bridge and kill it with Excalibur.
Head south along the river and talk to the Fisherman.
Head to the castle, southwest of the fisherman, pick up the Grail bell from the ground and ring it. (You must stand in front of the bricks to gain access to the castle)
Talk to the Fisher King upstairs.
Travel to Camelot and talk to King Arthur.
Travel to Goblin Village.
Use the Open option on the sacks in the house in the east side of Goblin Village.
Talk to Sir Percival, you will need a magic whistle.
Travel back to the Fisher Realm (via Brimhaven or using the fairy ring code BJR. You do not need to fight the Titan again either way).
Head to the top floor of the eastern tower and take a Holy Grail.
Return to King Arthur.
Quest complete!
Community content is available under
CC-BY-SA
unless otherwise noted.