Raise a Floppa - The Loop
Play Sound

The Hunting knife is obtained as a reward from the 2016 Hallowe'en event, as well as subsequent Hallowe'en events. Running while having the knife equipped uses a different animation.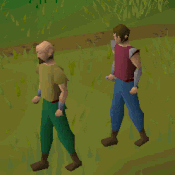 Despite being a knife, its combat styles are the same as those of a warhammer. It offers very large attack penalties and is nearly useless as an actual weapon. As such it is allowed during "fun weapon" fights in the Duel Arena.
When wielded, a "Slash" option will appear on other players. Picking this option will cause the player to hit the other player. The hit is just an animation and no damage is dealt, nor does it count as entering combat.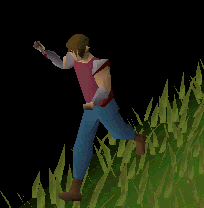 Combat styles
Trivia
The animation for slashing another player is identical to the one used when cutting jungle plants with a machete.
The examine text is a reference to the theme song of Mr Stabby, a short flash animation series created by Jonti Picking.
Birthday

 War ship •  Gnome child hat •  4th birthday hat •  Birthday balloons •  Prop sword

Easter

 Easter egg •  Rubber chicken •  Easter ring •  Easter basket

Midsummer

 Disk of returning •  Half full wine jug •  Druidic wreath •  Mask of balance •  Hornwood helm •  Hand fan

Hallowe'en

 Pumpkin •  Scythe •  Zombie head •  Jack lantern mask •  Grim reaper hood •  Anti-panties •  Hunting knife •  Jonas mask

Christmas

 Christmas cracker •  Yo-yo •  Wintumber tree •  Reindeer hat •  Snow globe •  Sack of presents •  Giant present

Partyhats

 Yellow •  Green •  Red •  White •  Purple •  Blue •  Black •  Rainbow

Santa hats

 Regular •  Black •  Inverted •  Wise Old Man's

Marionettes

Santa outfit

 Mask •  Jacket •  Pantaloons •  Gloves •  Boots

Antisanta outfit

 Mask •  Jacket •  Pantaloons •  Gloves •  Boots

Snow imp costume

Hats and Scarves

| | |
| --- | --- |
| Hats |  Bobble •  Jester •  Tri-jester •  Woolly |
| Scarves |  Bobble •  Jester •  Tri-jester •  Woolly |

Miscellaneous

 Cabbage cape •  Cruciferous codex •  Rainbow scarf •  Runefest shield

| | |
| --- | --- |
| Cat toys |  Tiger •  Lion •  Snow leopard •  Amur leopard |
| Clue hunter outfit | |