Fire Emblem Warriors: Three Hopes - The Loop
Play Sound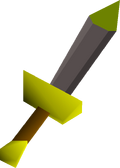 The iron dagger is a dagger stronger than the bronze dagger. Players can make an iron dagger with the Smithing skill at level 15 using 1 iron bar, giving the player 25 smithing experience. Members can poison this weapon, giving them an advantage in combat. Players can purchase this dagger from the Varrock Swordshop. There is also a respawn in the house with the Goblins near the canoe dock in Lumbridge.
Players with at least level 32 Thieving can get an Iron dagger (p) by pickpocketing Rogues. Rogues are located southwest of the deep wilderness Mage Arena.
It is superior in accuracy to the bronze sword. As it is a common and inexpensive item, an iron dagger is more likely to be obtained by new players than other iron weaponry.
Combat styles
Dagger

 Bronze •  Iron •  Bone •  Steel •  Black •  White •  Mithril •  Adamant •  Rune •  Toktz-xil-ek •  Dragon •  Abyssal

Sword

 Training •  Wooden •  Bronze •  Iron •  Steel •  Black •  White •  Mithril •  Adamant •  Rune •  Rapier •  Leaf-bladed •  Toktz-xil-ak •  Dragon •  Ghrazi rapier

Spear

 Bronze •  Iron •  Bone •  Steel •  Black •  Mithril •  Adamant •  Rune •  Gilded •  Leaf-bladed •  Dragon •  Guthan's •  Zamorakian •  Vesta's

Hasta

 Bronze •  Iron •  Steel •  Mithril •  Adamant •  Rune •  Gilded •  Zamorakian

Other

 Egg whisk •  Spork •  Kitchen knife •  Wolfbane •  Keris •  Dark •  Glowing
Melee weapons

 Dagger •  Axe •  Mace •  Claws •  Sword •  Longsword •  Scimitar •  Spear •  Warhammer •  Battleaxe •  Two-hander •  Halberd •  Hasta •  Pickaxe •  Sickle

Ranged weapons/ammo

 Crossbow •  Bolts •  Arrows •  Brutal arrows •  Throwing axe •  Throwing knife •  Javelin •  Darts

Armour

 Medium helm •  Full helm (t) (g) •  Chainbody •  Platebody (t) (g) •  Gloves •  Square shield • Kiteshield (t) (g) •  Platelegs (t) (g) •  Plateskirt (t) (g) •  Boots •  Defender

Other

 Bar •  Ore •  Oil lantern frame •  Cooking spit •  Nails •  Arrowtips •  Javelin heads •  Dart tips •  Unfinished bolts  Broken axe •  Broken pickaxe