GTA: The Criminal Enterprises - The Loop
Play Sound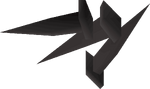 Iron nails are a type of nail in RuneScape. They are made with an iron bar on an anvil with a hammer in the player's inventory, requiring level 19 in smithing and receiving 15 iron nails and 25 Smithing experience per bar. They can be used to construct certain types of wooden furniture.
Fifteen iron nails are used in crafting a snakeskin shield, alongside a willow shield and two pieces of snakeskin, requiring 56 Crafting and granting 100 experience.
In addition, they are used on flighted ogre arrows to create iron brutal arrows, requiring 18 Fletching and granting 2.6 experience per arrow.
Planks
Nails
Stonemason
Signet
Sir Renitee

Other

 Ancient crystal •  Bagged plants •  Bolt of cloth • Boss jars •  Clockwork •  Fairy enchantment •  Skull • Stuffed heads • Stuffed fish
Melee weapons

 Dagger •  Axe •  Mace •  Claws •  Sword •  Longsword •  Scimitar •  Spear •  Warhammer •  Battleaxe •  Two-hander •  Halberd •  Hasta •  Pickaxe •  Sickle

Ranged weapons/ammo

 Crossbow •  Bolts •  Arrows •  Brutal arrows •  Throwing axe •  Throwing knife •  Javelin •  Darts

Armour

 Medium helm •  Full helm (t) (g) •  Chainbody •  Platebody (t) (g) •  Gloves •  Square shield • Kiteshield (t) (g) •  Platelegs (t) (g) •  Plateskirt (t) (g) •  Boots •  Defender

Other

 Bar •  Ore •  Oil lantern frame •  Cooking spit •  Nails •  Arrowtips •  Javelin heads •  Dart tips •  Unfinished bolts  Broken axe •  Broken pickaxe