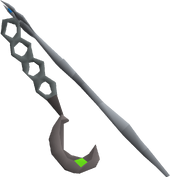 The Ivandis flail is a one-handed melee weapon created by the player during A Taste of Hope from a chain, an enchanted emerald sickle (b) and the rod of Ivandis.
This flail is effective in damaging and killing the vyrewatch because, despite their sufficient mind-reading ability to predict attacks and avoid damage, the flail is incredibly unpredictable and random. The sickle head further increases the unpredictability of the weapon. Thus, attackers do not hit the Vyrewatch in the intended way, rendering their mind-reading useless.
The flail can cast Bloom, the same as a silver sickle (b). This multiplicity of use lets a player kill Ghasts, Vampyre Juvinates, and Vyrewatch with a single weapon.
While players can make a flail themselves after the quest, it is much easier to purchase one from Vertida Sefalatis for 20,000 coins in the old Myreque Hideout under Old Man Ral's home.
The flail has a damage bonus against vampyres of 20%.
Special attack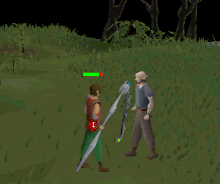 The Ivandis flail has a special attack, Retainer, which traps a vampyre juvenile or juvinate that has 50% or less hitpoints remaining, preventing it from retaliating. This consumes 10% of the player's special attack energy.
Combat Style
Trivia
Despite having only having a Crush attack style available as a melee weapon, the Flail also has Stab and Slash bonuses.