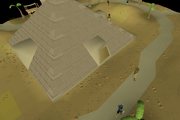 The Jalsavrah Pyramid, simply known as Plunder Pyramid, or Sophanem Pyramid is the location of the Pyramid Plunder minigame.
The pyramid
There are four entrances around the pyramid, each decorated. Three are empty, and one has the guardian mummy inside of it. After speaking to him, the Pyramid Plunder minigame will begin. The door which leads to the mummy changes every now and then.
Inside, there are eight chambers, which the mummy allows you in - each dependent on your Thieving level. In each chamber, there is one sarcophagus, which may be looted for a chance to obtain the elusive Pharaoh's sceptre.
Getting there
The fastest way to get to the pyramid, and Sophanem in general, is the teleport function of the Pharaoh's sceptre. The next fastest way is teleporting to Al Kharid, via Amulet of glory or Ring of dueling, and get the magic carpet to Pollnivneach and then down to Sophanem.
(This will cost between 150-400 coins, dependent on whether or not you have completed the clothing section of the Rogue Trader miniquest or are using the Ring of charos (a).)
Inhabitants
NPCs

Rewards

Artefacts

 Ivory comb •  Pottery scarab •  Pottery statuette •  Stone seal
 Stone scarab •  Stone statuette •  Gold seal •  Golden scarab
 Golden statuette

Other

 Pharaoh's sceptre

Other

Jalsavrah Pyramid • Scarab swarm • Mummy
Community content is available under
CC-BY-SA
unless otherwise noted.