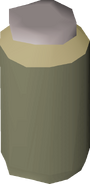 The jar of dirt is a rare drop from the Kraken boss. It can be used on a boss lair display in a player's Achievement Gallery to have a display of the Kraken. Doing so requires killing it at least once.
Dropping monsters
| Monster | Combat level | Quantity | Rarity |
| --- | --- | --- | --- |
| Kraken | 291 | 1 | |
Trivia
The jar of dirt may be a reference to Pirates of the Caribbean: Dead Man's Chest, in which the film's protagonist, Jack Sparrow, receives a jar of dirt that later becomes important to the plot of the film; the owner of the contents of the jar has a 'pet' kraken giving a nod to the monster that drops this item.
Boss drops

 Dirt •  Sand •  Swamp •  Souls •  Miasma •  Darkness •  Stone •  Decay

Butterfly jars

 Empty •  Ruby harvest •  Sapphire glacialis •  Snowy knight •  Black warlock

Impling jars

 Empty •  Baby •  Young •  Gourmet •  Earth •  Essence •  Eclectic •  Nature •  Magpie •  Ninja •  Dragon •  Lucky

Other

 Bell •  Canopic •  Ethereal fluid •  Honey •  Jam •  Maple syrup •  Specimen •  Sweet herb •  Treacle