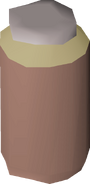 The jar of miasma is an item that can be obtained from using the unsired, dropped by the Abyssal Sire, on the Font of Consumption. Players have a 13/128 chance of receiving one when doing so. As an unsired is a 1/100 drop, this effectively makes the chances of obtaining a jar 1/984.
The jar can be used on a boss lair display in a player's Achievement Gallery to have a display of the Abyssal Sire. Doing so requires killing him at least once.
Dropping monsters
Trivia
This jar has a significantly higher drop rate compared to the other jars.
Boss drops

 Dirt •  Sand •  Swamp •  Souls •  Miasma •  Darkness •  Stone •  Decay

Butterfly jars

 Empty •  Ruby harvest •  Sapphire glacialis •  Snowy knight •  Black warlock

Impling jars

 Empty •  Baby •  Young •  Gourmet •  Earth •  Essence •  Eclectic •  Nature •  Magpie •  Ninja •  Dragon •  Lucky

Other

 Bell •  Canopic •  Ethereal fluid •  Honey •  Jam •  Maple syrup •  Specimen •  Sweet herb •  Treacle
Community content is available under
CC-BY-SA
unless otherwise noted.