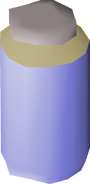 The jar of souls is a rare drop from Cerberus. Using one on Adam will initiate a dialogue in which he will claim that he's been looking for souls, and reaches in the jar to take one.
In addition, using one on the soul altar on Zeah will cause Sister Soul Jar to appear, performing the Dance emote.
The jar can be used on a boss lair display in a player's Achievement Gallery to have a display of Cerberus. Doing so requires killing her at least once.
Dropping monsters
| Monster | Combat level | Quantity | Rarity |
| --- | --- | --- | --- |
| Cerberus | 318 | 1 | |
NPCs

Unique drops

 Primordial crystal •  Eternal crystal •  Pegasian crystal •  Smouldering stone •  Key master teleport •  Jar of souls •  Hellpuppy

Equipment

Other
Boss drops

 Dirt •  Sand •  Swamp •  Souls •  Miasma •  Darkness •  Stone •  Decay

Butterfly jars

 Empty •  Ruby harvest •  Sapphire glacialis •  Snowy knight •  Black warlock

Impling jars

 Empty •  Baby •  Young •  Gourmet •  Earth •  Essence •  Eclectic •  Nature •  Magpie •  Ninja •  Dragon •  Lucky

Other

 Bell •  Canopic •  Ethereal fluid •  Honey •  Jam •  Maple syrup •  Specimen •  Sweet herb •  Treacle