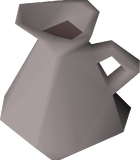 A jug of vinegar can be bought from Fortunato in Draynor Village for 1 coin after starting the Rag and Bone Man quest. When decanted into an empty pot it becomes a pot of vinegar and an empty jug. Bones from various creatures around RuneScape can then be added to the pot (one bone per pot) and boiled over the fire outside the Odd Old Man's house. This will clean the bones and they can then be given to the old man to complete the quest.
A total of 35 jugs of vinegar are needed for Rag and Bone Man (8) as well as Rag and Bone Man II (27).
NPCs

Items

Bones

 Goblin skull •  Bear ribs •  Ram skull •  Unicorn bone •  Giant rat bone •  Giant bat wing •  Monkey paw •  Big frog leg

Scenery

Related
NPCs

Items

 Jug of vinegar •  Pot of vinegar •  Bone in vinegar •  Bonesack •  Ram skull helm

Bones

 Wolf bone •  Bat wing •  Rat bone •  Baby dragon bone •  Ogre ribs •  Jogre bone •  Zogre bone •  Mogre bone •  Dagannoth ribs •  Snake spine •  Zombie bone •  Werewolf bone •  Moss giant bone •  Fire giant bone •  Ice giant ribs •  Terrorbird wing •  Ghoul bone •  Troll bone •  Seagull wing •  Undead cow ribs •  Experiment bone •  Rabbit bone •  Basilisk bone •  Desert lizard bone •  Cave goblin skull •  Vulture wing •  Jackal bone

Scenery
Community content is available under
CC-BY-SA
unless otherwise noted.