Kalphite Guardians can be found in the Kalphite Lair - deep beneath the Kharidian Desert, which is located south-west of the Shantay Pass, Al Kharid. An alternative route upon completion of Death to the Dorgeshuun, lies south of Dorgesh-Kaan, beyond the Dorgesh-Kaan Agility Course. They can also be found in the Kalphite Cave; a slayer assignment is required to kill them there.
Players will need a rope in order to access the Kalphite Lair.
It is necessary to bring some form of Antipoison if using Melee to kill these. There are Ranged safespots at the entrance to the caves due to the size of the creature.
Strengths and weaknesses
Kalphite Guardians will inflict poison very frequently (even if you have the Protect from Melee prayer on) which starts at 6 damage. They can hit for up to 16 melee damage and are quite accurate. They can be safely ranged from a couple locations. Kalphites are most vulnerable to crush style attacks; however, most players still prefer to use abyssal whip or dragon scimitar in favour of better attack speed.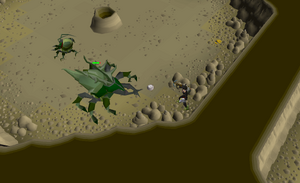 Drops
Armour
Weapons
Ammunition
Other
Rare drop table
In addition to the drops above, this monster has access to the standard rare drop table.
Community content is available under
CC-BY-SA
unless otherwise noted.