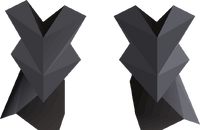 Karamja gloves 4 is a reward for completing all the Easy, Medium, Hard and Elite tasks in the Karamja Diary. The gloves can be claimed by talking to Pirate Jackie the Fruit found in the Brimhaven, near the entrance to the Brimhaven Agility Arena, she will also replace them if lost. Alternatively, players can purchase one from Perdu for 200 coins should they lose it.
Benefits
From Karamja gloves 1, 2 and 3
When worn
At all times
Operate gloves
Free, unlimited teleportation to the underground portion of the Shilo Village mining site
Karamja gloves 4 only
Community content is available under
CC-BY-SA
unless otherwise noted.