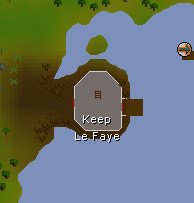 Keep Le Faye is a tower south of Camelot Castle, and directly east of Sorcerer's Tower. It plays a relatively large role in Merlin's Crystal and King's Ransom. The Keep is the home of Morgan Le Faye.
Getting There
Teleport to Camelot and go south.
Use Fairy Ring code blr and go north east.
Inhabitants
Clue Scroll
For some clue scrolls you will have to go in front of the Keep Le Faye entrance and do the Raspberry emote whilst equipping a Coif, Iron platebody, and Leather gloves.
Trivia
Outside the Keep Le Faye tower you can find three Giant Bat and several Dead trees.
There is a inconspicuous hole (easy) outside the Keep Le Faye tower.
The Keep Le Faye tower has a dock with several crates on it.
The Rasberry emote clue is a reference to the French taunter scene in Monty Python and the Holy Grail.
NPCs

Gossip • Anna • Pierre • Hobbes • Louisa • Mary • Donovan • Stanford • Judge • Prosecutor • David • Morgan Le Faye • Merlin • Wizard Cromperty • Alan • Renegade Knight

Guards

Knights of the Round Table

King Arthur • Sir Bedivere • Sir Gawain • Sir Kay • Sir Lancelot • Sir Lucan • Sir Palomedes • Sir Pelleas • Sir Tristram

Items

 Scrap paper •  Address form •  Black knight helm •  Holy grail •  Animate rock scroll •  Criminal's thread •  Hair clip

Rewards

 Antique lamp

Locations

Keep Le Faye • Black Knights' Fortress • Seers' Village Courthouse

Music

Related