Kelp is a plant that players can find growing underwater in the Mogre Camp. They will need to speak to Murphy at Port Khazard to enter.
Players can pick the leaves from the kelp plant, and grind them down with a pestle and mortar to make ground kelp, which can be used to make a raw fishcake, and awards the player with 1 Cooking experience. If you need help finding kelp, some kelp is located near the anchor Murphy dropped. Kelp cannot be cooked to make soda ash.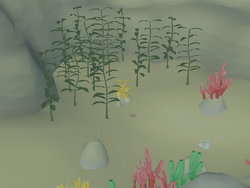 Subquest of Recipe for Disaster

NPCs

Pirate Pete • Mogre Guard • Murphy • Nung

Monsters

Items

Crab parts

 Fresh crab claw •  Broken crab claw •  Crab claw •  Fresh crab shell •  Broken crab shell •  Crab helmet

Fishcakes & ingredients

 Breadcrumbs •  Crab meat •  Ground cod •  Ground crab meat •  Burnt crab meat •  Cooked crab meat •  Ground kelp •  Kelp •  Raw fishcake •  Cooked fishcake •  Burnt fishcake

Locations

Music
Community content is available under
CC-BY-SA
unless otherwise noted.