Fire Emblem Warriors: Three Hopes - The Loop
Play Sound
Killerwatts are Slayer monsters located in the Killerwatt plane, accessed through a portal on the top floor of Draynor Manor. Level 37 Slayer and completion of Ernest the Chicken are required to kill them. Players are suggested to wear insulated boots when fighting killerwatts - not wearing them will result in taking increased damage from the killerwatt's Ranged attacks due to lightning strikes; however, this damage can still be negated with Protect from Missiles. A Dwarf multicannon cannot be set up in the killerwatt plane.
Killerwatts are much more dangerous than what their combat level may suggest; both their Ranged and Melee attacks will hit players every 1.2 seconds, much faster than the speed of an Abyssal whip or scimitars, and their melee attacks are exceptionally accurate, although Prayer flicking is still possible despite their attack speed. Using Ranged or Magic from across clouds will limit them to their Ranged attack, allowing players with protection prayers to safely complete this Slayer task. Their Ranged attack is Magic-based, and thus equipment with high Magic Defence such as dragonhide armour will provide the best protection against the Ranged attack. Contrary to popular belief, their melee attack is NOT magic based, and as such your best melee armor is most effective when using the 'baiting' method (where the player selects to attack the enemy but clicks away before landing their first attack, leading to the killerwatt only using melee attacks).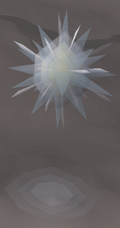 Killerwatts initially appear as floating balls of electricity, but will grow limbs if attacked. Though they aren't aggressive, they will immediately retaliate after being clicked on, and will try to get within melee range of the player before attacking. Because of this, it is possible to stop a killerwatt from using Ranged attacks entirely by clicking on it with a Melee weapon equipped and then waiting for it to attack first. A killerwatt that has targeted a player will not stop following them until they log out or leave the killerwatt plane.
Drops
100% drop
Weapons/Armour
Herbs
Runes
Other
Gem drop table
In addition to the drops above, this monster has access to the gem drop table.
Trivia
*The name is a play on "kilowatt", a unit of power, with the word "killer" included to imply their hostility, or that they may give a deadly amount of watts.
During Enlightened Journey, and while unlocking routes for the Balloon transport system, some killerwatts can be seen standing on top of clouds, trees, rocks and buildings. Despite this, they cannot be fought anywhere outside of the killerwatt plane.
Slayer Tower

 Crawling Hand •  Banshee •  Infernal Mage •  Bloodveld •  Aberrant spectre •  Gargoyle (Boss • Dusk • Dawn) •  Nechryael •  Abyssal demon (Boss)

Fremennik Slayer Dungeon

 Cave crawler •  Rockslug •  Cockatrice •  Pyrefiend •  Basilisk •  Jelly •  Turoth •  Kurask

Lumbridge Swamp Caves
God Wars Dungeon (Wilderness)

 Pyrefiend •  Bloodveld •  Spiritual ranger •  Spiritual warrior •  Spiritual mage

Stronghold Slayer Cave
Catacombs of Kourend

 Twisted Banshee •  Warped Jelly •  Mutated Bloodveld •  Deviant spectre •  Brutal black dragon •  Greater Nechryael •  Abyssal demon •  Dark beast

Wyvern Cave

 Long-tailed Wyvern •  Spitting Wyvern •  Taloned Wyvern •  Ancient Wyvern

Others

 Desert Lizard •  Mogre •  Harpie Bug Swarm •  Killerwatt •  Molanisk •  Terror dog •  Sea snake (Young) (Hatchling) •  Brine rat •  Fever spider •  Mutated Zygomite (Ancient) •  Cave horror •  Dust devil •  Skeletal Wyvern •  Cave kraken (Boss) •  Dark beast •  Cerberus •  Smoke devil (Boss)

| | |
| --- | --- |
| Superior monsters |  Crushing hand •  Chasm Crawler •  Screaming banshee (Twisted) •  Giant rockslug •  Cockathrice •  Flaming pyrelord •  Monstrous basilisk •  Malevolent Mage •  Insatiable Bloodveld (Mutated) •  Vitreous Jelly (Warped) •  Cave abomination •  Abhorrent spectre (Repugnant) •  Choke devil •  King kurask •  Marble gargoyle •  Nechryarch •  Greater abyssal demon •  Night beast •  Nuclear smoke devil |