New Pokemon Games - The Loop
Play Sound
For a list of all items and upgrades within the Construction skill, see Construction/All milestones.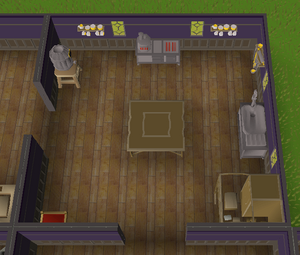 The Kitchen in a Player-owned house is a room that a player can build at level 5 Construction and has a cost of 5000 coins. Kitchens have two, non-parallel door spaces making it a good corner room.
In the Kitchen, players have their own water supply, a fire to cook their food, and a larder where players can get their cooking materials.
As shown, there are 8 Hotspots available:
Barrel
Table
Stove
Larder
Shelf
Sink
Cat Basket
Exits
Barrel
Table
Stove
Larder
Shelf
Shelves are important because the type of shelf determines the type of tea cup you can access and the strength of Cup of tea (Player-owned house) which boosts your Construction level.
Shelf
Image
Level
Materials
Experience
Wooden shelves 1
6
3 Planks, 3 nails
87
Wooden shelves 2
12
3 Planks, 3 nails,
6 pieces of soft clay
147
Wooden shelves 3
23
3 Planks, 3 nails,
6 pieces of soft clay
147
Oak shelves 1
34
3 Oak planks,
6 pieces of soft clay
240
Oak shelves 2
45
3 Oak planks,
6 pieces of soft clay
240
Teak shelves 1
56
3 Teak planks,
6 pieces of soft clay
330
Teak shelves 2
67
3 Teak planks, 2 gold leaves,
6 pieces of soft clay
930
Sink
Basket

 Garden •

 Parlour •

 Kitchen •

 Dining Room •

 Workshop •

 Bedroom •

 Skill Hall •

 Games room •

 Combat Room •

 Quest Hall •

 Menagerie •

 Study •

 Costume Room •

 Chapel •

 Portal Chamber •

 Formal Garden •

 Throne Room •

 Oubliette •

 Superior Garden •

 Dungeon •

 Treasure Room •

 Achievement Gallery
Ale barrels

 Beer •  Cider •  Asgarnian ale •  Greenman's ale •  Dragon bitter •  Chef's delight

Tables

Stoves

 Firepit •  Firepit with hook •  Firepit with pot •  Small oven •  Large oven •  Steel range •  Fancy range

Larders

Shelves

Sinks

Cat baskets