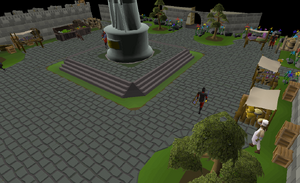 The Kourend Castle constitutes the centre of Great Kourend. As Great Kourend is a republic, there is no king that rules here, although the castle appears to be furnished for one; the last king that ruled Great Kourend, King Kharedst IV, ruled until the 139th decade (about 20 years ago). The Castle now houses the Kourend Council, the current ruling authority of the Kingdom.
The castle acts as a diplomatic hub, attracting ambassadors and business representatives from all over Zeah, such as the Knight of Varlamore. With the inhabitants of the mainland beginning to travel to Zeah, this may extend to rulers found in major kingdoms such as Asgarnia, Misthalin, and Kandarin.
Throughout the castle, Kourend guards and Kourend head guards can be found. The back entrance's portcullis is closed, heavily guarded, and contains a large arsenal of ballistae, spear walls, gabion defences, and barrels containing swords and bows.
Outside the castle grounds, Martin Holt and four other protesters can be seen protesting against the Kourend Council, accusing them of corruption and expressing their desire for a king to rule Kourend once more.
Noteworthy features
Ground floor
Click "Expand" to view the poem:
Kourend the magnificent,
Kourend the resplendent,
Kourend the most powerful
of the nations in the world.

Kourend is our citadel,
Kourend is our homeland.
We will live and die for Kourend,
for the city of our birth.

From the rugged mountains,
to the foaming seas,
here we make our home in Kourend,
all together, all in peace.

Kourend is a monument,
Kourend is a triumph;
it shall stand here forever
in the shadow of our King.
First floor
Second floor
Gallery
Trivia
Community content is available under
CC-BY-SA
unless otherwise noted.