GTA: The Criminal Enterprises - The Loop
Play Sound
This article is about the boss variant of Cave krakens. For the normal Slayer monster, see
Cave kraken
.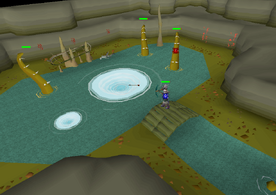 The Kraken is a stronger and larger version of the cave kraken. It requires level 87 Slayer to kill. Located at the Kraken Cove, it can only be attacked if the player has cave krakens as a Slayer assignment, which also requires level 50 Magic. Along with their non-boss variants, they are the only monsters that drop the Kraken tentacle. In addition to the tentacle, the Kraken is the only monster to drop the Trident of the seas.
Like its smaller brethren, the Kraken is submerged underwater. To start the fight, the four whirlpools around it must be disturbed; this will release a level 112 Enormous Tentacle, which attacks with Magic. When all four whirlpools are disturbed, the larger one can be disturbed, which will result in the Kraken popping out. Both the Kraken and its tentacles attack with magic; the Kraken can hit very hard, but often misses, while the tentacles are much more accurate but deal less damage. The Kraken and its tentacles use Typeless Magic and as such Protect from Magic does not prevent or reduce any damage they deal to the player (nor does it reduce their accuracy). The Kraken's projectile resembles Fire Wave.
Players can create a Kraken instance for 25,000 coins. The player does not need to carry coins on them to create the instance. The player does need to be careful in the instance though, as it only holds one player (the creator), and any items you drop will be permanently lost upon exiting, including those if you die or disconnect. Also if you log out after paying the coins, you will be kicked out of the boss room and will have to pay again. Items intentionally dropped on the floor within the Kraken boss instance will remain on the floor for 30 minutes; however, items are still lost on death. Items dropped in the regular cave will disappear as normal.
Drops
Weapons/Armour
Runes/Ammunition
Seeds
Materials
Other
Rare drop table
In addition to the drops above, this monster also has access to the rare drop table.
Trivia
Slayer Tower

 Crawling Hand •  Banshee •  Infernal Mage •  Bloodveld •  Aberrant spectre •  Gargoyle (Boss • Dusk • Dawn) •  Nechryael •  Abyssal demon (Boss)

Fremennik Slayer Dungeon

 Cave crawler •  Rockslug •  Cockatrice •  Pyrefiend •  Basilisk •  Jelly •  Turoth •  Kurask

Lumbridge Swamp Caves
God Wars Dungeon (Wilderness)

 Pyrefiend •  Bloodveld •  Spiritual ranger •  Spiritual warrior •  Spiritual mage

Stronghold Slayer Cave
Catacombs of Kourend

 Twisted Banshee •  Warped Jelly •  Mutated Bloodveld •  Deviant spectre •  Brutal black dragon •  Greater Nechryael •  Abyssal demon •  Dark beast

Wyvern Cave

 Long-tailed Wyvern •  Spitting Wyvern •  Taloned Wyvern •  Ancient Wyvern

Others

 Desert Lizard •  Mogre •  Harpie Bug Swarm •  Killerwatt •  Molanisk •  Terror dog •  Sea snake (Young) (Hatchling) •  Brine rat •  Fever spider •  Mutated Zygomite (Ancient) •  Cave horror •  Dust devil •  Skeletal Wyvern •  Cave kraken (Boss) •  Dark beast •  Cerberus •  Smoke devil (Boss)

| | |
| --- | --- |
| Superior monsters |  Crushing hand •  Chasm Crawler •  Screaming banshee (Twisted) •  Giant rockslug •  Cockathrice •  Flaming pyrelord •  Monstrous basilisk •  Malevolent Mage •  Insatiable Bloodveld (Mutated) •  Vitreous Jelly (Warped) •  Cave abomination •  Abhorrent spectre (Repugnant) •  Choke devil •  King kurask •  Marble gargoyle •  Nechryarch •  Greater abyssal demon •  Night beast •  Nuclear smoke devil |