Line 49:
Line 49:
 

In order to reach the encampment, players must first wield any crossbow along with a [[mithril grapple]]. A [[ranged]] level of at least 70 is then required to navigate the chasm. To enter the boss room, players must have slain 40 followers of Armadyl, with aviansies and their spiritual variants being his only followers within the dungeon.

 

In order to reach the encampment, players must first wield any crossbow along with a [[mithril grapple]]. A [[ranged]] level of at least 70 is then required to navigate the chasm. To enter the boss room, players must have slain 40 followers of Armadyl, with aviansies and their spiritual variants being his only followers within the dungeon.

 
 
 
⚫
−

==Quotes==

 
⚫
 
−
 
−

However, unlike the other generals, his taunts are non-verbal.

 
 
 
 

==Bodyguards==

 

==Bodyguards==

Line 72:
Line 69:
 

{{DropsLine|Name=Rune sword|Quantity=1|Rarity=Rare|raritynotes=<small>(1/406)</small>}}

 

{{DropsLine|Name=Rune sword|Quantity=1|Rarity=Rare|raritynotes=<small>(1/406)</small>}}

 

|}

 

|}

 
+
 
⚫
 
⚫
 
⚫
 
⚫
 
⚫
 
⚫
 
⚫
 
⚫
 
 
 

===Ammunition and Runes===

 

===Ammunition and Runes===

Line 79:
Line 85:
 

{{DropsLine|Name=Rune arrow|Quantity=100-105|Rarity=Uncommon}}

 

{{DropsLine|Name=Rune arrow|Quantity=100-105|Rarity=Uncommon}}

 

{{DropsLine|Name=Dragon bolts (e)|Quantity=5-15|Rarity=Uncommon}}

 

{{DropsLine|Name=Dragon bolts (e)|Quantity=5-15|Rarity=Uncommon}}

⚫
 
−
 
⚫
 
⚫
 
⚫
 
⚫
 
⚫
 
⚫
 
 

|}

 

|}

 
 
Line 103:
Line 101:
 

{{DropsLine|Name=Godsword shard 2|Quantity=1|Rarity=Rare|raritynotes=<small>(1/256)</small><ref name="sharddrop"></ref>}}

 

{{DropsLine|Name=Godsword shard 2|Quantity=1|Rarity=Rare|raritynotes=<small>(1/256)</small><ref name="sharddrop"></ref>}}

 

{{DropsLine|Name=Godsword shard 3|Quantity=1|Rarity=Rare|raritynotes=<small>(1/256)</small><ref name="sharddrop"></ref>}}

 

{{DropsLine|Name=Godsword shard 3|Quantity=1|Rarity=Rare|raritynotes=<small>(1/256)</small><ref name="sharddrop"></ref>}}

⚫
 
 

{{DropsLine|Name=Long bone||Quantity=1|Rarity=Rare|Raritynotes=<small>(1/400)</small>|gemw=No}}

 

{{DropsLine|Name=Long bone||Quantity=1|Rarity=Rare|Raritynotes=<small>(1/400)</small>|gemw=No}}

 
⚫
 

{{DropsLine|Name=Curved bone|Quantity=1|Rarity=Very rare|raritynotes = <small>(1/5,000)</small>|gemw=No}}

 

{{DropsLine|Name=Curved bone|Quantity=1|Rarity=Very rare|raritynotes = <small>(1/5,000)</small>|gemw=No}}

−

{{DropsLine|Name=Pet kree'arra|Quantity = 1|Rarity=Very rare|raritynotes = <small>(1/5,000)</small>|gemw=No}}

+

{{DropsLine|Name=Pet kree'arra|Quantity=1|Rarity=Very rare|raritynotes=<small>(1/5,000)</small>|gemw=No}}

 

|}

 

|}

 
+

<references/>

 

{{RareDropTable}}

 

{{RareDropTable}}

 
 
Line 121:
Line 120:
 

**''Kree'Arra looks at you glaringly.''

 

**''Kree'Arra looks at you glaringly.''

 
 
−

==References==

 
⚫
 
 

{{GodWarsDungeonBosses}}

 

{{GodWarsDungeonBosses}}

 

[[Category:Bosses]]

 

[[Category:Bosses]]
---
Revision as of 14:35, 8 October 2017

Kree'arra is one of Armadyl's most trusted generals. He is among the most powerful of the surviving aviantese, and the apparent leader of Armadyl's Eyrie in the God Wars Dungeon.
In order to reach the encampment, players must first wield any crossbow along with a mithril grapple. A ranged level of at least 70 is then required to navigate the chasm. To enter the boss room, players must have slain 40 followers of Armadyl, with aviansies and their spiritual variants being his only followers within the dungeon.
Kree'arra can be seen yelling several battle cries in his chamber. However, unlike the other generals, his taunts are non-verbal.
Bodyguards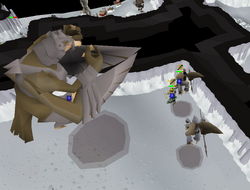 Drops
100%
Weapons
Armour
Ammunition and Runes
Other
Rare drop table
In addition to the drops above, this monster also has access to the rare drop table.
Trivia
At Old School RuneScape's first birthday event, players could speak to Kree'arra, resulting in the following dialogue:

Player: Well.... Kree'Arra. I.. I..
Kree'arra: You what? Still confused about if I'm a he or a she? Still one of those guys who says 'Oh let's go kill Kree'Arra I bet SHE'LL drop us something good. I'm male alright.... geeze.
Player: No no n... wait, really?
Player: Damn. Anyway, no I wasn't expecting to see you and the others.... here? I thought you were all sworn enemies?
Kree'arra: Yeah, well... we put aside our differences for the party since we're indebted to the development team for bringing us to life in the first place.
Kree'arra: Although, I'm getting very annoyed with Graardor over there who just keeps eating everything he can find.
Player: Well I hope you enjoy yourself and.... don't kill anyone?
Kree'Arra looks at you glaringly.
Community content is available under
CC-BY-SA
unless otherwise noted.