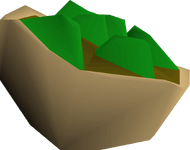 A Kristmas kebab is obtained during the 2017 Christmas event by searching the kebab meat cooker in Santa's Grotto.
When a player eats the kebab, a message will appear in the chatbox, stating The warmth of the meat and Christmas spices suffuse your mouth, it tastes somewhat like reindeer. Zero health is regained.
The examine text spells donner incorrectly, with the actual spelling being doner. This may imply that Donner, one of Santa's reindeers, was cooked into a kebab, as he is not found with the other reindeer. This is reinforced by speaking to Dolph after relighting his nose, in which he exclaims I'd rather end up like Donner than have another sprite shoved where the sun don't shine!
NPCs

Wise Old Man • Diango • Snow Sprite • Santa • Jack Frost

Items

 Enchanted curtains •  Enchanted snowy curtains •  Wise old man's teleport tablet •  Kristmas kebab •  Fine mesh net •  Snow sprite •  Logs and kindling •  Santa suit •  Santa suit (wet) •  Santa suit (dry) •  Vault key •  Santa's seal •  Promissory note •  Empty sack •  Bulging sack

Rewards
Community content is available under
CC-BY-SA
unless otherwise noted.