Fire Emblem Warriors: Three Hopes - The Loop
Play Sound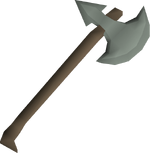 The leaf-bladed battleaxe is one of three melee weapons used to harm turoths and kurasks, the others being the leaf-bladed spear and sword. When fighting these monsters with the battleaxe, it will deal 17.5% more damage.
The axe requires an Attack level of 65 and a Slayer level of 55 to wield. It is dropped by kurasks located in the Fremennik Slayer Dungeon.
The leaf-bladed battleaxe has the highest strength bonus out of all one-handed melee weaponry, exceeding the dragon battleaxe, having a higher slash and crush bonus than its dragon counterpart. In addition, unlike standard battleaxes, the leaf-bladed battleaxe exhibits a faster attack speed of 5, instead of the usual 4, resulting in significantly more damage per minute.
Combat styles
Dropping monsters
| Monster | Combat level | Quantity | Rarity |
| --- | --- | --- | --- |
| Kurask | 106 | 1 | |
| King kurask | 295 | 1 | |
Trivia
Scimitar

 Bronze •  Iron •  Steel •  Black •  White •  Mithril •  Adamant •  Rune •  Gilded •  Dragon (or)

Longsword

 Bronze •  Iron •  Steel •  Black •  White •  Mithril •  Adamant •  Katana •  Rune •  Granite •  Dragon •  3rd age •  Vesta's

Battleaxe

 Bronze •  Iron •  Steel •  Black •  White •  Mithril •  Adamant •  Rune •  Leaf-bladed •  Dragon

Claws

 Bronze •  Iron •  Steel •  Black •  White •  Mithril •  Adamant •  Rune •  Dragon

Halberd

 Bronze •  Iron •  Steel •  Black •  White •  Mithril •  Adamant •  Rune •  Dragon •  Crystal

Two-handed sword

| | |
| --- | --- |
| Standard |  Bronze •  Iron •  Steel •  Black •  White •  Mithril •  Adamant •  Rune •  Gilded •  Dragon |
| Godswords | |
| Other | |

Quests

 Blurite •  Anger sword •  Anger battleaxe •  Excalibur •  Silverlight •  Darklight •  Wooden spoon •  Skewer •  Cleaver

Castle Wars

Other

 Iron sickle •  Silver sickle (b) •  Starter sword •  Spear •  Harry's cutlass •  Lucky cutlass •  Brine sabre •  Fremennik •  Arclight •  Abyssal whip (volcanic) (frozen) •  Abyssal tentacle •  Scythe of vitur
Equipment from Slayer Masters

 Broad arrows •  Earmuffs •  Facemask •  Insulated boots •  Leaf-bladed spear •  Nose peg •  Mirror shield •  Slayer gloves •  Slayer's staff •  Spiny helmet •  Lit bug lantern •  Witchwood icon

Items from Slayer Masters

 Bag of salt •  Enchanted gem •  Fishing explosive •  Fungicide spray •  Fungicide •  Rock hammer •  Rock thrownhammer •  Ice cooler •  Slayer bell •  Broad arrowheads •  Unfinished broad bolts •  Broad arrowhead pack •  Unfinished broad bolt pack

Purchased with Slayer reward points

 Slayer ring (eternal) •  Broad bolts •  Herb sack •  Slayer helmet (imbued) •  Black slayer helmet (imbued) •  Green slayer helmet (imbued) •  Red slayer helmet (imbued) •  Purple slayer helmet (imbued) •  Turquoise slayer helmet (imbued)

Others

 Black mask (imbued) •  Leaf-bladed sword •  Leaf-bladed battleaxe •  Slayer's staff (e)