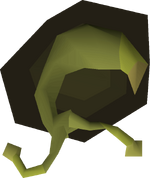 Lean snail is a type of raw food that is dropped by snails. Cooking it will give lean snail meat, which heals 8 hitpoints when eaten. When raw, lean snail looks like thin snail, but turns deep red when cooked.
In the activities Temple Trekking/Burgh de Rott Ramble, cooked lean snail can be given to the player's follower for the trek.
There is a right-click option to 'Grind' the lean snail. This is used to produce Blamish snail slime used in the Blamish oil for the quest, Heroes' Quest. You are required to have a sample bottle in your inventory to collect it.
Dropping monsters