A lesser magic cage can be built in the floor hotspot of the Throne Room in a player-owned house. If a player pulls the lever, magic rings will bind and trap any players standing on the white mat. The player who pulled the lever may then decide to drop them into the Oubliette if there is one.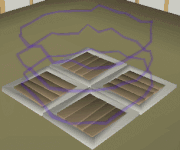 Trivia
While the house owner is trapped in the cage, the butler will teleport a visitor into the cage with them. The visitor and house owner will remain trapped in the cage until they are released by another visitor or leave.
Thrones

 Oak •  Teak •  Mahogany •  Gilded •  Skeleton •  Crystal •  Demonic

Levers

Floors

 Floor decoration •  Steel cage •  Trapdoor •  Lesser magic cage •  Greater magic cage

Trapdoor

Seating

Decorations

 Oak •  Teak •  Gilded •  Round shield •  Square shield •  Kite shield
Community content is available under
CC-BY-SA
unless otherwise noted.