The Lumber Yard is a location northeast of Varrock. It is only accessible to members. Its main feature is the Sawmill operator, who is located in a small room along the yard's south-west wall. He is involved in the Construction skill: He can turn logs into planks for a fee, and he also sells bolts of cloth, three kinds of nails, and saws.
Players can get here the quickest by using the Lumberyard teleport scroll. They can also take the Balloon Transport system to end up right below the lumber yard. Alternatively, they can use the Digsite pendant to get close by. Otherwise they can walk from varrock.
Players cannot enter the Lumber Yard through its main gate, nor can they enter the Sawmill operator's room. There is a hole in the yard's south wall, where players can enter the yard. Other than curiosity, players typically enter the yard for one of these reasons: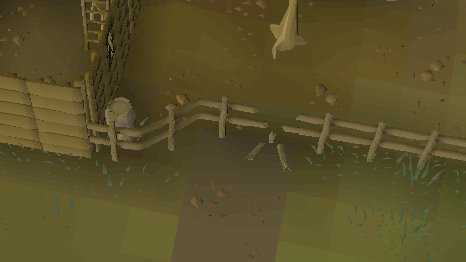 Community content is available under
CC-BY-SA
unless otherwise noted.