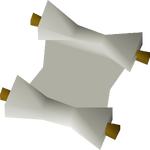 The lumber order is a quest item that is part of The Grand Tree quest.
It is an order from Glough, who intends to build up a gnome army to wipe out humans. Players obtain it from a foreman in Karamja shipyard, either by talking to him or killing him.
Players will also need to obtain Glough's invasion plans, and take both pieces of evidence to King Narnode Shareen.
Transcript
Karamja shipyard
Order
Order for 30 Karamja battleships
Lumber required: 2000
Troop capacity: 300
NPCs

King Narnode Shareen • Hazelmere • Glough • Charlie • Foreman • Anita • Femi

Items

 Bark sample •  Translation book •  Hazelmere's scroll •  Lumber order •  Glough's key •  Glough's journal •  Invasion plans •  Daconia rock  Twigs

Locations

Music

Miscellaneous
Community content is available under
CC-BY-SA
unless otherwise noted.