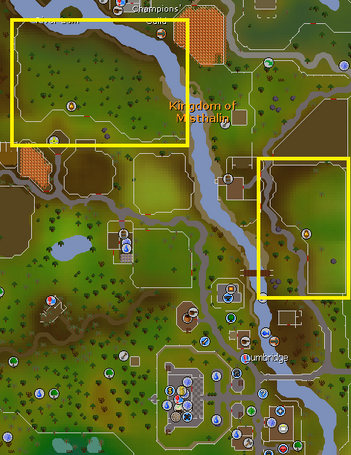 The Lumbridge cow field is a field containing level 2 cows and cow calves. The field also has dairy cows which can be milked if you have a bucket in your inventory. Gillie Groats is the owner of the cows, and her father Seth Groats owns a chicken coop, just west of the northern end of the cow field. This is a good place to train either Magic or Ranged at a low combat level due to the fact that you can safely kill them from the other side of the fence, and run in to loot between kills. There are 2 cow fields in Lumbridge: north of the windmill and east of the town.
This field is a very popular training spot for low levels of both free players and members because of the 100% cowhide drop, as well as raw beef and bones to train Cooking and Prayer with respectively. It is also an extremely good place to train Prayer and Cooking as bones and beef are often left in the rush to collect cow hides. This is also the closest cow field to a bank as well as a Tanner in the Al Kharid, which also makes it crowded.
Community content is available under
CC-BY-SA
unless otherwise noted.