A lyre is crafted by a player during the Fremennik Trials quest. The lyre is needed in the quest to perform in the longhall to get Olaf the Bard's vote to become a Fremennik.
The lyre can then be enchanted by Fossegrimen to make an enchanted lyre and progress with the quest.
Creating the lyre
The lyre can be made by using an axe to cut a branch from the swaying tree east of Rellekka, and then using a knife on the branch to obtain an unstrung lyre, then attaching golden wool. Doing so requires 25 Fletching.
Golden wool can be obtained from buying golden fleece from Lalli (1,000gp), then spinning it on a spinning wheel (nearest spinning wheel is in Seers' Village).
The Fremmenik Trials
During The Fremennik Trials, you have to go to the stage in the main hall and play the lyre. Wearing a skillcape or being in a guild, champions', heroes' or legends' guild will make the song lyrics different.
After you've played on the stage, you get to keep the lyre.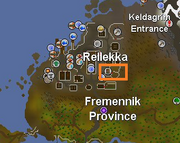 Players may also kill Lanzig for a Lyre. He can be found in the south-eastern corner in Rellekka.

NPCs

Poison Salesman • Council workman • Lalli • Askeladden • Fossegrimen • Yrsa • Skulgrimen • Thora the Barkeep • Longhall Bouncer • Sailor • Styrmir

Fremennik council

Brundt the Chieftain • Manni the Reveller • Olaf the Bard • Peer the Seer • Sigli the Huntsman • Sigmund The Merchant • Swensen the Navigator • Thorvald the Warrior • Inga • Agnar • Sassilik • Pontak • Fisherman

Enemies

Koschei the deathless • Lanzig • Freidir • Borrokar • The Draugen

Items

 Keg of beer •  Beer tankard •  Tankard •  Low alcohol keg •  Strange object •  Lit strange object •  Branch •  Pet rock •  Golden fleece •  Golden wool •  Wooden disk •  Magnet •  Blue thread •  Small pick •  Toy ship •  Old red disk •  Red disk •  Red herring •  Sticky red goop •  Frozen key •  Seer's key •  Hunters' talisman •  Legendary cocktail •  Champions token •  Unusual fish •  Custom bow string •  Sturdy boots •  Exotic flower •  Fremennik blade

Bucket

 Empty •  1/5ths full •  2/5ths full •  3/5ths full •  4/5ths full •  Full •  Frozen

Jug

 Empty •  1/3rds full •  2/3rds full •  Full •  Frozen

Vase

 Vase •  Vase of water •  Vase lid •  Sealed vase

Lyre

Texts and scrolls

 Promissory note •  Warriors' contract •  Weather forecast •  Sea fishing map •  Tracking map •  Fiscal statement •  Fremennik ballad

Locations

Music

Related
Community content is available under
CC-BY-SA
unless otherwise noted.