Arcane: League of Legends - The Loop
Play Sound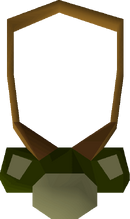 A m'speak amulet is an amulet used to communicate with monkeys. It is made during the Monkey Madness I quest to speak with the citizens of Ape Atoll.It is later used in the Freeing King Awowogei subquest of Recipe for Disaster as well as Monkey Madness II. After the completion of Monkey Madness II it is no longer required to speak with the monkeys on Ape Atoll.
To make one, the player must take Monkey dentures, an M'amulet mould and a Gold bar to Zooknock, who will give the player an Enchanted bar (and the mould back). The bar must then be used on one of the fires underneath the Temple of Marimbo with the M'amulet mould in the player's inventory. This will create the unstrung M'speak amulet, which must be used on a Ball of wool before it can be worn.
If the M'speak amulet is lost, it cannot be reobtained by any means other than repeating the above steps.
Since Zooknock returns the M'amulet mould to the player when the bar is created, only one M'amulet mould is required to create 2 or more Enchanted bars.
NPCs

| | |
| --- | --- |
| Monkeys | Awowogei • Muruwoi • Uwogo • Trefaji • Aberab • Hafuba • Elder Guard • Kruk • Bonzara • Monkey Child • The Monkey's Aunt • Sleeping Monkey |
| Three wise monkeys | |
| Gnomes and people | King Narnode Shareen • G.L.O. Caranock • Daero • Waydar • Blurberry • Monkey minder |
| 10th Squad | Garkor • Karam • Lumo • Lumdo • Zooknock • Bunkdo • Carado • Bunkwicket • Waymottin |
| Enemies | |

Items

 Gnome royal seal •  Narnode's orders •  Monkey dentures •  M'amulet mould •  Enchanted bar •  M'speak amulet (unstrung) •  M'speak amulet •  Monkey talisman •  Monkey greegree •  Monkey •  10th squad sigil •  Spare controls •  Eye of gnome •  Monkey nuts •  Monkey bar •  Banana stew

Locations

Grand Tree • Shipyard • Crash Island • Ape Atoll (Dungeon) • Ardougne Zoo

Music

Anywhere • Find My Way • Island Life • Marooned • Monkey Madness • Showdown • Suspicious • Technology • Temple

Related
Crafted

| | |
| --- | --- |
| Unstrung |  Gold •  Sapphire •  Opal •  Emerald •  Jade •  Topaz •  Ruby •  Diamond •  Dragonstone •  Onyx •  Zenyte |
| Strung |  Gold •  Sapphire •  Opal •  Emerald •  Pre-nature •  Jade •  Topaz •  Ruby •  Diamond •  Dragonstone •  Onyx •  Zenyte |
| Enchanted |  Magic (t) •  Bounty •  Defence •  Nature •  Chemistry •  Burning •  Strength (t) •  Power •  Glory (t) •  Fury (or) •  Torture (or) |

Translation

 Camulet •  Catspeak (e) •  Ghostspeak •  Monkeyspeak (unstrung)

Others

 Accuracy •  Avarice •  Eternal glory •  Crone-made •  Cat training medal •  Glarial's •  Gnome •  Lunar •  Salve (e) (i) (ei) •  3rd age •  Yin Yang •  Xeric's talisman •  Amulet of the damned