World of Warcraft: Dragonflight - The Loop
Play Sound
The Mage Arena is a members-only area in which the player must travel to the Mage Arena in the deep Wilderness and fight Kolodion, the master of battle magic. To fight in the arena, it requires level 60 Magic, and the ability to kill increasingly difficult monsters using only Magic.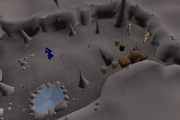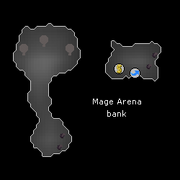 Miniquest
Before the player can cast god spells, players must complete The Mage Arena miniquest.
Stores
Charging spells
If you want to charge spells, you have to cast them 100 times inside the arena. During the time that you are fighting Kolodion, you are free from all PKers, but now, you are vulnerable. While in the Mage Arena casting the spells, you will not be attacked by the god's cape you are wearing. The others will attack you, but it is a single combat zone, so if you are fighting a mage, you're safe. It is recommended to bring prayer potions and food, as the spells you are casting and that they are casting on you can hit up to 20. Once you have charged a spell (cast it 100 times), you will receive a message saying you are now able to cast the spell outside the arena.
The Mage Arena bank is often called 'Mage Bank'. It is also the only bank in the entire Wilderness. This makes the Mage Arena an extremely popular player killing spot, as well as a place where players can train the god spells. Players training spells here are usually afraid to go out due to the fact that the god spells require blood runes, making them expensive. Player killers often use the Tele Block spell here to prevent players from pulling the lever and escaping.
NPCs
God staves
God capes
God spells

 Claws of Guthix •  Saradomin Strike •  Flames of Zamorak •  Charge