GTA: The Criminal Enterprises - The Loop
Play Sound

The magic longbow is a longbow fletched from Magic logs. It requires a Ranged level of 50 to wield and can fire arrows up to amethyst.
Players can make a magic longbow with a Fletching level of 85 by cutting an unstrung magic longbow from magic logs, granting 91.5 Fletching experience, and then stringing unstrung magic longbow with a bow string, granting a further 91.5 experience.
A magic longbow is required for an elite clue scroll.
Special attack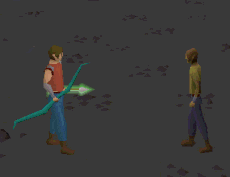 The magic longbow's special attack, Powershot, is guaranteed to hit the target. This consumes 35% of the player's special attack energy. This special attack is also shared with the magic comp bow.
Damage inflicted by this special attack is unaffected by damage-boosting prayers (such as Eagle Eye) and the slayer helmet (i).
Combat styles
Shortbows

 Normal(u) •  Oak(u) •  Willow(u) •  Maple(u) •  Yew(u) •  Magic(u) (i)

Longbows

 Normal(u) •  Oak(u) •  Willow(u) •  Maple(u) •  Yew(u) •  Magic(u)

Composite bows

Special bows

 Training •  Starter •  Cursed goblin •  Ogre •  Seercull •  Craw's •  Dark •  3rd age •  Crystal •  Twisted

Crossbows

 Normal •  Phoenix •  Bronze •  Blurite •  Iron •  Steel •  Mithril •  Dorgeshuun •  Adamant •  Hunters' •  Rune •  Dragon •  Dragon hunter •  Karil's •  Armadyl

Ballistae
Darts

 Bronze •  Iron •  Steel •  Black •  Mithril •  Adamant •  Rune •  Dragon •  Toxic blowpipe

Throwing knife
Throwing axes

 Bronze •  Iron •  Steel •  Mithril •  Adamant •  Rune •  Dragon •  Morrigan's

Chinchompas
Other items

 Arrows •  Bolts •  Cannon •  Cannonball •  Granite cannonball •  Holy water •  Javelins •  Mud pie •  Toktz-xil-ul