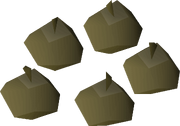 Magic seeds are the highest level tree seeds. At level 75 Farming, magic seeds may be planted in plant pots with a trowel and watered to become magic saplings.
After about 8 hours it will be a fully grown magic tree granting 13,768 Farming exp when inspected and can then be cut to yield magic logs (and grant Woodcutting experience). After the tree has been cut down, it will eventually regrow. Using a spade on the cut tree roots before the tree has regrown yields magic roots and makes the tree patch available for planting a new tree. Alternatively, you can ask the nearby gardener to chop down the tree for 200 coins. This instantly removes the tree whether or not it has been cut down from the patch, making the patch available for a new seed to be planted, but no magic roots are obtained.
The farmer next to the patch will protect a growing magic tree if it becomes diseased, in exchange for 25 coconuts.
In order to plant a new one, the tree must be chopped and then dug up, rewarding the player with magic roots. The amount of roots given depends on the player's Farming level (boosts can be used):
At level 75, a player obtains one magic root.
At level 83, a player obtains two magic roots.
At level 91, a player obtains three magic roots.
At level 99, a player obtains four magic roots.
Magic seeds may be found rarely in bird nests, which can be obtained randomly while Woodcutting or from Managing Miscellania, as well as doing bird house runs.
Farming info
Dropping monsters
Allotment

 Potato •  Onion •  Cabbage •  Tomato •  Sweetcorn •  Strawberry •  Watermelon

Flower

 Marigold •  Rosemary •  Nasturtium •  Woad •  Limpwurt

Herb

 Guam •  Marrentill •  Tarromin •  Harralander •  Gout tuber •  Ranarr •  Toadflax •  Irit •  Avantoe •  Kwuarm •  Snapdragon •  Cadantine •  Lantadyme •  Dwarf weed •  Torstol

Hop

 Barley •  Hammerstone •  Asgarnian •  Jute •  Yanillian •  Krandorian •  Wildblood

Bush

 Redberry •  Cadavaberry •  Dwellberry •  Jangerberry •  Whiteberry •  Poison ivy

Tree
Fruit tree

 Apple tree •  Banana tree •  Orange tree •  Curry tree •  Pineapple •  Papaya tree •  Palm tree

Special seeds

 Seaweed •  Teak •  Grape •  Mushroom •  Mahogany •  Cactus •  Belladonna •  Calquat •  Spirit

Other seeds

 Blindweed •  Crystal (small) •  Grass •  Hardy gout tuber •  Hardy gout tubers •  Kelda •  Pine tree •  White pearl

Tithe Farm seeds
Chambers of Xeric
Garden of Tranquillity

 Delphinium •  Pink orchid •  Pink rose •  Red rose •  Snowdrop •  Vine •  White rose •  Yellow orchid
Community content is available under
CC-BY-SA
unless otherwise noted.