Fire Emblem Warriors: Three Hopes - The Loop
Play Sound
Magic tablets are magic spells that are cached in soft clay. This allows the spell to be used later. Clicking on the magic tablet in the inventory activates the spell and breaks the tablet.
Making magic tablets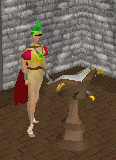 Magic tablets are created from soft clay using a lectern in a player-owned house. A player brings the runes for the spell, an elemental staff (optional) and the soft clay to the appropriate lectern. The lectern can be in the house of another player. By clicking on the lectern a screen will appear showing the magic tablets that can be constructed at that lectern. After selecting a spell, the clay changes into a stackable magic tablet and the magic tablet selection window disappears.
Magic tablet building requires that the player has the appropriate Magic level and brings the required runes for casting the spell.
Experience
The Magic experience is assigned during the creation of the tablets and the amount is equal to the normal casting of the spell. No magic experience is gained by activating the magic tablet.
Usage information
Magic tablets provide players with a method to gain the benefit of a spell before reaching the required magic level to cast it. They are also useful in situations where inventory space is critical and/or where the inventory based activation is useful. Players on a different spellbook (Lunar magic or Ancient Magick), may find it useful to have access to a subset of spells from the normal magic spellbook.
Standard magic tablets
The table below lists all the possible magic tablets. The columns in the table represent the different type of lectern that is required to make a magic tablet.
Redirected magic tablets
Teleport to house tablets can be 'redirected', using scrolls of redirection, to one of the player-owned house portals and Trollheim. These tablets are untradeable. This process can be reverted at any time.
Ancient Magicks tablets
These teleport tablets cannot be made and can only be bought from the Bounty Hunter Store at the cost of 10,000 points each or at the Grand Exchange. Completion of Desert Treasure is required in order to use them.
Arceuus teleport tablets
These teleport tablets are made at a lectern located in the Ouditor's house in Great Kourend's Arceuus House. Making these tablets require the respective runes and magic levels to create while being on the Arceuus spellbook. In addition, a dark essence block is required to substitute soft clay, which requires 100% favour with the Arceuus House to obtain.
| Tablet | GE Price |
| --- | --- |
|  Lumbridge graveyard teleport | 1,614 |
|  Draynor manor teleport | 1,600 |
|  Mind altar teleport | 1,638 |
|  Salve graveyard teleport | 1,986 |
|  Fenkenstrain's castle teleport | 1,868 |
|  West ardougne teleport | 1,971 |
|  Harmony island teleport | 2,010 |
|  Cemetery teleport | 1,919 |
|  Barrows teleport | 2,645 |
|  Ape atoll teleport | 2,755 |
Other tablets
These are tablets that do not fit into any of the previous categories.
Teleports

| | |
| --- | --- |
| Normal |  Varrock •  Lumbridge •  Falador •  Camelot •  Ardougne •  Watchtower •  Player-owned house |
| Redirected |  Rimmington •  Taverley •  Pollnivneach •  Great Kourend •  Rellekka •  Brimhaven •  Yanille •  Trollheim |
| Ancient Magicks |  Paddewwa •  Senntisten •  Annakarl •  Carrallangar •  Dareeyak •  Ghorrock •  Kharyrll •  Lassar |
| Arceuus |  Lumbridge Graveyard •  Draynor Manor •  Mind Altar •  Salve Graveyard •  Fenkenstrain's Castle •  West Ardougne •  Harmony Island •  Forgotten Cemetery •  Barrows •  Ape Atoll |
| Other |  Volcanic Mine •  Wise old man's •  Deadman •  Icy basalt •  Stony basalt |

Enchant

 Enchant sapphire or opal •  Enchant emerald or jade •  Enchant ruby or topaz •  Enchant diamond •  Enchant dragonstone •  Enchant onyx •  Bones to bananas •  Bones to peaches •  Telekinetic grab