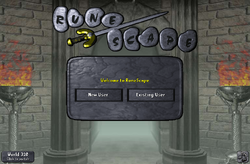 The Main Menu can be accessed by selecting "Free player? Play Now!" or "Member? Play Now!" from the Old School RuneScape homepage. Once it has loaded, the main menu will appear. You can login to the game from the main menu or create a new account. You can also adjust the volume straight from the main menu as well as switching between worlds.
Features
New User
This is the first option on the main menu. Clicking this option will direct you to the main create-an-account page on the main RuneScape website.
Existing User
This is the second option on the main menu. Clicking this option will prompt you to enter your RuneScape username and password, in order to play the game.
Login
This option overrides "New User" and "Existing User" and acts as the latter when playing on Old School RuneScape Mobile.
Forgotten Password
Accessed by typing in an incorrect or empty password for any username or email. Opens the appeal page that asks for recovery information.
World Select
At the bottom-left of the main menu shows the current selected world that the player will login to. It can be changed by clicking it, which will then show all available free-to-play and members worlds along with the amount of players in each world.
Music
At the bottom-right of the main menu shows whether the background music is either on or muted. It can be toggled by simply left-clicking.
Normally, Scape Main is the background music played. However, during Hallowe'en events, Scape Scared is played instead, and Scape Santa is played during Christmas events.
During the 2018 Birthday event, the background music is replaced with Scape Five as part of Old School RuneScape's fifth birthday celebrations.
Gallery
Trivia
Occasionally the flames from sconces form shapes related to RuneScape, such as runes, the skull and crossbones indicating that the player is in the Wilderness, and the overhead skull.
Control panel

| | |
| --- | --- |
| Top |  Combat Options •  Stats •  Quest List •  Achievement Diary •  Minigame Group Finder •  Kourend Favour •  Inventory •  Worn equipment (Equipment Stats) (Items Kept on Death) (Guide Prices) •  Prayer screen •  Spellbook |
| Bottom |  Clan Chat •  Friends List (Ignore List)  Account Management •  Logout (World switching) •  Options •  Emotes •  Music |

Minimap

Compass • Hitpoints • Quick prayers • Run energy • Special attack • World map

Other

Chat Interface • Choose Option • Game controls • Main Menu • Trading interface
Community content is available under
CC-BY-SA
unless otherwise noted.