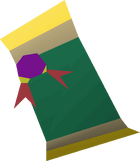 A makeover voucher is received by males upon completion of the Recruitment Drive quest. They can use it to change their gender with the Make-over Mage near Falador. Only one voucher can ever be received.
This is given as a reward to male players because they have to change their gender during the quest. However, you will not receive a voucher if you change genders before starting the quest.
NPCs

Sir Amik Varze • Sir Tiffy Cashien • Lady Table • Sir Kuam Ferentse • Sir Spishyus • Miss Cheevers • Sir Ren Itchood • Ms. Hynn Terprett • Sir Tinley

Enemies

Sir Leye

Items

 Grain •  Fox •  Chicken •  Cupric sulfate •  Acetic acid •  Gypsum •  Sodium chloride •  Nitrous oxide •  Vial of liquid •  Tin ore powder •  Cupric ore powder •  Metal spade •  Metal spade (head) •  Alchemical notes •  Bronze key •  Chisel •  Bronze wire •  Shears •  Magnet •  Knife •  ??? mixture •  Makeover voucher •  Hourglass

Tin

 Empty •  Gypsum •  Hardening •  Impression •  Tin •  Copper •  Tin and copper •  Key •  Strange

Initiate armour

Music

Related
Community content is available under
CC-BY-SA
unless otherwise noted.