Raise a Floppa - The Loop
Play Sound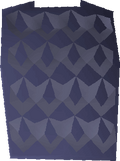 The Mithril chainbody is a chainbody made out of Mithril. As with all Mithril armour, it requires 20 Defence to wear.
Like all chainbodies, it provides better Crush defence than a platebody made of the same material, at the cost of lower Stab and Slash defence.
The Mithril chainbody can be made with level 61 Smithing using 3 mithril bars, and grants 150 Smithing experience.
Store locations
This chainbody can also be bought or sold at:
Dropping monsters
Bronze •

Iron •

Steel •

Black •

White •

Mithril •

Adamant •
Rune •

Dragon
Melee weapons

 Dagger •  Axe •  Mace •  Claws •  Sword •  Longsword •  Scimitar •  Spear •  Warhammer •  Battleaxe •  Two-hander •  Halberd •  Hasta •  Pickaxe

Ranged weapons/ammo

 Crossbow •  Bolts •  Arrows •  Brutal arrows •  Throwing axe •  Throwing knife •  Javelin •  Darts

Armour

 Medium helm •  Full helm (g) (t) •  Chainbody •  Platebody (g) (t) •  Gloves •  Square shield •  Kiteshield (g) (t) •  Platelegs (g) (t) •  Plateskirt (g) (t) •  Boots •  Defender

Other

 Bar •  Nails •  Arrowtips •  Javelin heads •  Dart tips •  Unfinished bolts •  Broken axe •  Broken pickaxe •  Rod of ivandis •  Grapple •  Grapple Tip •  Grapple (unf)