Fire Emblem Warriors: Three Hopes - The Loop
Play Sound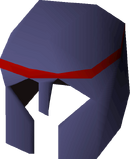 The mithril med helm is a medium helmet made out of mithril. This helm requires 20 Defence to wear. It provides more protection than its bronze, iron and steel counterparts. It can be made at level 53 Smithing using one Mithril bar.
This helm is a required item for a medium treasure trail emote clue.
A mithril med helm can also be purchased from Peksa's Helmet Shop in Barbarian Village or from Raum Urda-Stein on Jatizso.
Standard

| | |
| --- | --- |
| Medium helmets |  Bronze •  Iron •  Steel •  Black •  White •  Mithril •  Adamant •  Rune •  Dragon |
| Full helmets |  Bronze •  Iron •  Steel •  Black •  White (Initiate • Proselyte) •  Mithril •  Adamant •  Rune •  Dragon |

Treasure Trails

| | |
| --- | --- |
| Trimmed | |
| Gold-trimmed |  Bronze •  Iron •  Steel •  Black •  Mithril •  Adamant •  Rune •  Gilded med •  Gilded full •  Dragon |
| Black heraldic | |
| Adamant heraldic | |
| Rune heraldic | |
| Rune god | |

Other

| | |
| --- | --- |
| Slayer helmets |  Regular (imbued) •  Black (imbued) •  Green (imbued) •  Red (imbued) •  Purple (imbued) •  Turquoise (imbued) |
| Fremennik helmets |  Regular •  Warrior •  Berserker •  Rock-shell •  Neitiznot |
| Shayzien helmets | |
| Barrows helmets | |
| Serpentine helmets | |
| Miscellaneous |  Khazard •  Spiny •  Shaman mask •  Black mask •  Ram skull •  Tyras •  Fighter hat •  Void melee •  Granite •  Dwarven •  Obsidian •  3rd age •  Statius's |
Melee weapons

 Dagger •  Axe •  Mace •  Claws •  Sword •  Longsword •  Scimitar •  Spear •  Warhammer •  Battleaxe •  Two-hander •  Halberd •  Hasta •  Pickaxe

Ranged weapons/ammo

 Crossbow •  Bolts •  Arrows •  Brutal arrows •  Throwing axe •  Throwing knife •  Javelin •  Darts

Armour

 Medium helm •  Full helm (g) (t) •  Chainbody •  Platebody (g) (t) •  Gloves •  Square shield •  Kiteshield (g) (t) •  Platelegs (g) (t) •  Plateskirt (g) (t) •  Boots •  Defender

Other

 Bar •  Nails •  Arrowtips •  Javelin heads •  Dart tips •  Unfinished bolts •  Broken axe •  Broken pickaxe •  Rod of ivandis •  Grapple •  Grapple Tip •  Grapple (unf)