Raise a Floppa - The Loop
Play Sound
Mogres are Slayer monsters and a type of ogre that are found in Mudskipper Point. They can only be killed by players who have completed the Skippy and the Mogres miniquest and level 32 Slayer. Mogres appear when disturbed by the player, who must lure them using Fishing explosives on an Ominous fishing spot. Their name is a portmanteau of 'marine ogre' or 'mudskipper ogre'.
Mogres are usually killed by players searching for their unique drops of Flippers and Mudskipper hats.
Killing a Mogre is a requirement for completing the medium task set in the Falador Diary.
Location
Strategy
Mogres can be safespotted by using the fairy ring or the STASH unit to the west. As a low level player it could be a good idea to bring a tinderbox and logs as mogres often drop raw fish.
Quotes
When a mogre appears, they say one of the following phrases:
| Mogre Phrase | Frequency |
| --- | --- |
| Human hit me on the head! | 11 |
| Human scare all da fishies! | 20 |
| I get you! | 23 |
| I smack you good! | 18 |
| Smash stupid human! | 25 |
| Tasty human! | 18 |
| Da boom-boom kill all da fishies! | 3 |
| Total | 118 |
Drops
100%
Herb seeds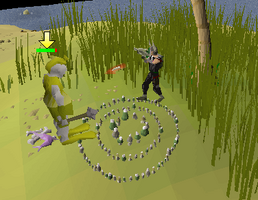 Other seeds
Fish
Other
Slayer Tower

 Crawling Hand •  Banshee •  Infernal Mage •  Bloodveld •  Aberrant spectre •  Gargoyle (Boss • Dusk • Dawn) •  Nechryael •  Abyssal demon (Boss)

Fremennik Slayer Dungeon

 Cave crawler •  Rockslug •  Cockatrice •  Pyrefiend •  Basilisk •  Jelly •  Turoth •  Kurask

Lumbridge Swamp Caves
God Wars Dungeon (Wilderness)

 Pyrefiend •  Bloodveld •  Spiritual ranger •  Spiritual warrior •  Spiritual mage

Stronghold Slayer Cave
Catacombs of Kourend

 Twisted Banshee •  Warped Jelly •  Mutated Bloodveld •  Deviant spectre •  Brutal black dragon •  Greater Nechryael •  Abyssal demon •  Dark beast

Wyvern Cave

 Long-tailed Wyvern •  Spitting Wyvern •  Taloned Wyvern •  Ancient Wyvern

Others

 Desert Lizard •  Mogre •  Harpie Bug Swarm •  Killerwatt •  Molanisk •  Terror dog •  Sea snake (Young) (Hatchling) •  Brine rat •  Fever spider •  Mutated Zygomite (Ancient) •  Cave horror •  Dust devil •  Skeletal Wyvern •  Cave kraken (Boss) •  Dark beast •  Cerberus •  Smoke devil (Boss)

| | |
| --- | --- |
| Superior monsters |  Crushing hand •  Chasm Crawler •  Screaming banshee (Twisted) •  Giant rockslug •  Cockathrice •  Flaming pyrelord •  Monstrous basilisk •  Malevolent Mage •  Insatiable Bloodveld (Mutated) •  Vitreous Jelly (Warped) •  Cave abomination •  Abhorrent spectre (Repugnant) •  Choke devil •  King kurask •  Marble gargoyle •  Nechryarch •  Greater abyssal demon •  Night beast •  Nuclear smoke devil |