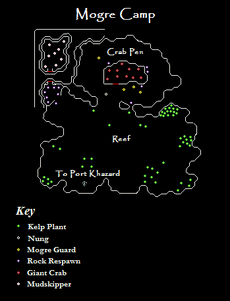 The Mogre Camp can only be accessed during and after saving Pirate Pete for Recipe for Disaster. You will require a fishbowl helmet and a diving apparatus to enter and weigh less than 27 kilograms. Speak to Murphy at Port Khazard to go diving. The brine sabre's special attacks could also be used down here.
Kelp, which can be ground and used as an ingredient for fishcakes (used for freeing Pirate Pete during Recipe for Disaster), also grows here.
Monsters
Personalities
Fish species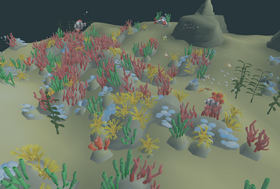 The nature of the Southern Sea in which the Mogre Camp exists has allowed for a large array of fish to inhabit the area. They cannot be caught, but can be seen swimming amongst the coral. The following species have been identified:
Trivia
Subquests

Another Cook's Quest • Freeing the Goblin generals • Freeing the Mountain Dwarf • Freeing Evil Dave • Freeing the Lumbridge Guide • Freeing Pirate Pete • Freeing Skrach Uglogwee • Freeing Sir Amik Varze • Freeing King Awowogei

Monsters

Agrith-Na-Na • Flambeed • Karamel • Dessourt • Gelatinnoth Mother • Culinaromancer

Rewards

 Antique lamp

Related
Subquest of Recipe for Disaster

NPCs

Pirate Pete • Mogre Guard • Murphy • Nung

Monsters

Items

Crab parts

 Fresh crab claw •  Broken crab claw •  Crab claw •  Fresh crab shell •  Broken crab shell •  Crab helmet

Fishcakes & ingredients

 Breadcrumbs •  Crab meat •  Ground cod •  Ground crab meat •  Burnt crab meat •  Cooked crab meat •  Ground kelp •  Kelp •  Raw fishcake •  Cooked fishcake •  Burnt fishcake

Locations

Mogre Camp

Music
Community content is available under
CC-BY-SA
unless otherwise noted.