World of Warcraft: Dragonflight - The Loop
Play Sound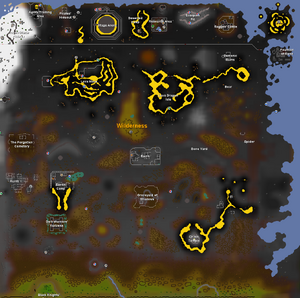 Being able to mine adamantite ore, which is a high-level ore that frequently sells for a high price (1,050 coins) due to its use in producing adamantite bars via Smithing, is no easy feat. There are several locations to mine adamantite, but the best place for both members and non-members to mine it is at Hobgoblin Mine, which contains eight adamantite rocks. Although it is directly north of Edgeville, it is also located in level 32-35 Wilderness and far from a bank, namely Edgeville. Since it is in the Wilderness, players should not take anything they are not prepared to lose. It's also suggested for players to have a Combat level above 70 and mine with caution at this mine since aggressive hobgoblins (regardless of Combat level) and the always-looming threat of a player killer are present. Furthermore, players should bring a few pieces of food and a Melee weapon in which the weapon is optional, but it could still help.
Additionally, players can take a waka canoe (requires 57 Woodcutting and an axe) to the Wilderness and run a bit south-west to reach the mine. After a full inventory, members can run south into level 30 Wilderness and use an Amulet of glory teleport to Edgeville to bank, and repeat whereas non-members will have to run all the way down to Edgeville.
Regardless, if players wish to avoid the hassles and dangers of the Wilderness, they can try the other mine locations and employ the world switching tactic if desired. Nonetheless, it takes between four to eight minutes for a rock to respawn depending on how long ago it was mined.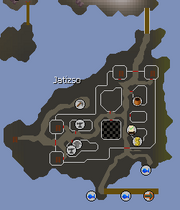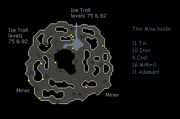 Jatizso Mine is a better alternative to Hobgoblin Mine, but players are required to start The Fremennik Isles and wear Yak-hide armour and a Fremennik round shield to alleviate possible damage from ice trolls. Players can also trap them behind rocks and walls. The mine is a fair distance from the bank, and at higher Mining levels, players can mine between 100 and 250 ores an hour, thus yielding between 105,000 and 262,500 coins.
---
Due to constantly changing prices on the Grand Exchange, some information in this article may or may not be current.
It is strongly recommended to check the live prices on the Grand Exchange before making large investments in any method.
All prices on this page are cached, meaning it is possible that they appear out of date.
To force a new cache of this page,
click this link
.
If a money making method is out of date, you can
edit it
or
leave a message on the talk page
.