Details
Start point
Speak to Brother Omad at the monastery south of Ardougne. Can be teleported nearby via fairy rings with code DJP

You can also reach there by using the mini game teleport, Fishing Trawler. Then walk north west from the port.

Official difficulty
Novice
Description
A monk's child has had their blanket stolen. Find the thieves' den and return the blanket, then help Brother Omad organise the drinks for the child's birthday party.
Length
Very Short (5 minutes)
Requirements
The ability to run past level 14 thieves, along with a level 26 one.
Items required

Recommended: Ardougne cloak 1 or higher to be able to teleport directly to the Monastery. Alternatively, players with a Fishing level of 15 or higher can use the Fishing Trawler minigame teleport.

Enemies to defeat
None
Walkthrough
Talk to Brother Omad at the Monastery south of Ardougne.
Head west of the Monastery and slightly southwest of the Clocktower to find a perfect stone circle, enter it and a ladder will appear. Go down it.
Follow the south path and pick the Child's blanket up.
Return to Brother Omad and talk to him twice.
Talk to Brother Cedric directly south of the Ardougne Zoo (near the well).
Bring him the Jug of Water.
Speak to him again and give him the logs.
Return to Brother Omad.
Quest complete!
Reward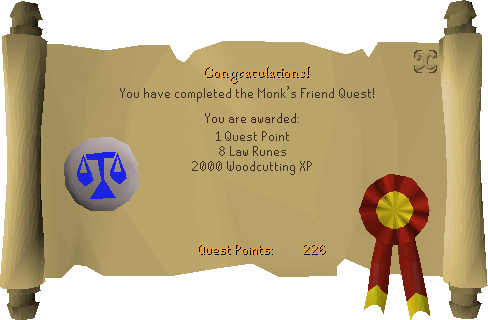 Community content is available under
CC-BY-SA
unless otherwise noted.