GTA: The Criminal Enterprises - The Loop
Play Sound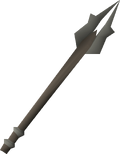 Morrigan's javelin is a ranged weapon exclusive to Deadman seasonals, requiring 78 Ranged to wield. It is part of Morrigan's equipment, a set of Ancient Warriors' equipment, and is dropped by any monster found in the Wilderness as part of a global loot table, the chance being relative to the combat level of the monster.
Unlike other javelins, they cannot be used with a ballistae and are a standalone weapon.
Special attack
The Morrigan's javelin special attack, Phantom Strike, costs 50% of the wielder's special attack energy and has no effect against NPCs. Against players, the javelin will deal regular damage, but will also apply a damage over time effect to your opponent: every 3 game cycles, your opponent takes an additional 5HP of damage until the same damage dealt by the initial blow has been delivered.
Combat styles
Trivia
Statius
Vesta

 Chainbody •  Plateskirt •  Longsword •  Spear

Zuriel

 Hood •  Robe top •  Robe bottom •  Staff

Morrigan

 Coif •  Leather body •  Leather chaps •  Javelin •  Throwing axe