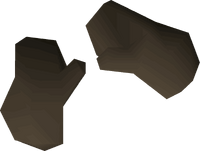 Mourner gloves are received by killing a level 11 Mourner during Mourning's Ends Part I. The mourner will throw a potion at the player that lowers all their combat stats to 20.
They are part of the mourner outfit. Like most of the Mourner equipment, the gloves do not need repair.
NPCs

Arianwyn • Head mourner • Thorgel • Eluned • Nissyen Edern • Slave • Shadow

Items

 Colour wheel •  Hand mirror •  New key •  Edern's journal •  Item list •  Death talisman

Mourner gear

Crystals

 Trinket •  Newly made •  Blue •  Blackened •  Cyan •  Yellow •  Fractured

Locations

Death Altar • Mourner Headquarters • Mourner Tunnels • Temple of Light • West Ardougne

Music

Related
Community content is available under
CC-BY-SA
unless otherwise noted.