Error creating thumbnail: Invalid thumbnail parameters
Music in RuneScape is mostly in-game background music (music tracks) designed to enhance a player's gaming experience and fit with the environment the avatar is in. Music in RuneScape draws inspiration from progressive rock, with elements of classical and world music. Players need to unlock most tracks during game-play by going to a particular place, completing a quest, or performing some action (such as reading a particular book).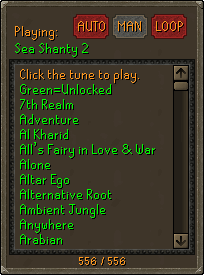 There are a total of 493 Music tracks in Oldschool Runescape.
Track List
#
A
B
C
D
E
F
| Song Name | Unlock Details | Members | Trivia |
| --- | --- | --- | --- |
| Faerie | Unlocked at Zanaris | Yes | |
| Faithless | Unlocked at Chaos Temple in the east Wilderness | No | |
| Fanfare | Unlocked at west Falador | No | |
| Fanfare 2 | Unlocked in the Karamja Ship Yard | Yes | |
| Fanfare 3 | Unlocked in Port Khazard | Yes | |
| Fangs for the Memory | Unlocked during In Aid of the Myreque | Yes | |
| Far Away | Unlocked during Mourning's Ends Part I | Yes | |
| The Far Side | Unlocked at Port Phasmatys | Yes | |
| Fe Fi Fo Fum | Unlocked top of the beanstalk during Grim Tales | | "Fe Fi Fo Fum" is the first line in the poem used in the English fairy tale: "Jack the Giant-Killer" |
| Fear and Loathing | Unlocked at the Dungeon of Tolna | Yes | |
| Fenkenstrain's Refrain | Unlocked at Fenkenstrain's Castle | Yes | |
| Fight or Flight | Unlocked in a slave mine below West Ardougne during Mourning's Ends Part I | Yes | |
| Find My Way | Unlocked at the Ape Atoll Dungeon | Yes | |
| Fire and Brimstone | Unlocked in the TzHaar Fight Pits | Yes | |
| Fishing | Unlocked at Catherby | Yes | |
| Floating Free | Unlocked at Entrana during Enlightened Journey | Yes | |
| Flute Salad | Unlocked north of Lumbridge | No | |
| Food for Thought | Unlocked in the Famine floor of the Stronghold of Security | No | |
| Forbidden | Unlocked north of Lumber Yard | No | |
| Forest | Unlocked northeast of Poison Waste | Yes | |
| Forever | Unlocked in Edgeville | No | |
| Foregettable Melody | Unlocked during Forgettable Tale of a Drunken Dwarf | Yes | |
| Forgotten | Unlocked in Uzer | Yes | |
| Frostbite | Unlocked during Desert Treasure | Yes | |
| Fruits de Mer | Unlocked at the Fishing Platform | Yes | |
| Funny Bunnies | Unlocked at any Easter event after 2013 | No | |
G
| Song Name | Unlock Details | Members | Trivia |
| --- | --- | --- | --- |
| The Galleon | Unlocked during Lunar Diplomacy | Yes | |
| Gaol | Unlocked in Gu'Tanoth | Yes | |
| Garden | Unlocked in Varrock | No | |
| Garden of Autumn | Unlocked in Sorceress' Garden | Yes | |
| Garden of Spring | Unlocked in Sorceress' Garden | Yes | |
| Garden of Summer | Unlocked in Sorceress' Garden | Yes | |
| Garden of Winter | Unlocked in Sorceress' Garden | Yes | |
| The Genie | Unlocked in Genie's cave during Spirits of the Elid | Yes | |
| Gnome King | Unlocked in Gnome Tree Stronghold | Yes | |
| Gnome Village | Unlocked in Gnome Tree Stronghold | Yes | |
| Gnome Village 2 | Unlocked in Gnome Tree Stronghold | Yes | |
| Gnome Village Party | | Yes | |
| Gnomeball | Unlocked at Gnomeball | Yes | |
| Goblin Game | Unlocked in Goblin Cave | Yes | |
| Goblin Village | Unlocked in Goblin Village | No | |
| Golden Touch | Unlocked at Mage Training Arena | Yes | |
| The Golem | Unlocked in Uzer | Yes | |
| Greatness | Unlocked at South-west Varrock mine | No | |
| Grip of the Talon | Unlocked during Shadow of the Storm | Yes | |
| Grotto | Unlocked in the Nature Grotto | Yes | |
| Ground Scape | Unlocked by default | No | |
| Grumpy | Unlocked at Feldip Hills | Yes | |
H
| Song Name | Unlock Details | Members | Trivia |
| --- | --- | --- | --- |
| H.A.M and Seek | Unlocked in the H.A.M Hideout | Yes | |
| H.A.M Attack | | Yes | |
| H.A.M Fisted | | Yes | |
| Harmony | Unlocked at Lumbridge Castle | No | |
| Harmony 2 | Unlocked at the Lumbridge Castle cellar | No | |
| Haunted Mine | Unlocked in the room where Treus Dayth is fought | Yes | |
| Have a Blast | | Yes | |
| Have an ice day | Unlocked during Cold War | Yes | |
| Head to Head | Unlocked during the random event Evil Twin | No | |
| Heart and Mind | Unlocked at Body altar | No | |
| Hells Bells | Troll Romance | Yes | |
| Hermit | | No | |
| High Seas | Unlocked in Brimhaven | Yes | |
| High Spirits | Unlocked during Hallowe'en event in Draynor Village | No | |
| Home Sweet Home | Unlocked inside a Player-owned house | Yes | |
| HomeScape | Unlocked inside a Player-owned house | Yes | |
| Horizon | Unlocked in Taverley | Yes | |
| Hypnotized | Unlocked while hypnotized during Itchlarin's Little Helper | Yes | |
I
J
K
| Song Name | Unlock Details | Members | Trivia |
| --- | --- | --- | --- |
| Karamja Jam | Brimhaven Dungeon | Yes | |
| Kingdom | Unlocked in the Death Plateau | Yes | |
| Knightly | Unlocked at the East Ardougne castle | Yes | |
| Knightmare | Unlocked at the Black Knight's Fortress | No | |
L
M
Song Name
Unlock Details
Members
Trivia
264
Mad Edgar
Unlocked in Mad Eadgar's cave
265
The Mad Mole
Unlocked at the Mole Lair
266
Mage Arena
267
Magic Dance
Unlocked in Yanille
268
Magic, Magic, Magic
Unlocked in the Tower of Life
269
Magical Journey
270
Major Miner
271
Making Waves
272
Malady
Unlocked in the Pestilence floor of the Stronghold of Security
273
March
274
Marooned
275
Marzipan
276
Masquerade
Unlocked in the Fremmenik Slayer Dungeon
277
Mastermindless
278
Mausoleum
279
Meddling Kids
280
Medival
Unlocked in the southeast part of Varrock
281
Mellow
282
Melodrama
283
Merdian
Unlocked in Tiranwnn
284
Method of Madness
Unlocked in the Dungeon of Tolna
285
Mile Away
286
Mind over Matter
287
Miracle Dance
Unlocked at the Mind Altar
288
Mirage
289
Miscellania
Unlocked in Miscellania
290
The Mollusc Menace
Unlocked East of Ardougne
291
Monarch Waltz
Unlocked in Ardougne
292
Monkey Madness
Unlocked in Ape Atoll
293
Monster Melee
294
The Monsters Below
295
Moody
296
Morytania
Unlocked in north-west Morytania
297
Mouse Trap
298
Mudskipper Melody
Unlocked at Mudskipper Point
299
Mutant Medley
300
My Arm's Journey
Unlocked during My Arm's Big Adventure
301
Narode's Theme
Unlocked below the Tree Gnome Stronghold
302
Natural
303
The Navigator
Unlocked during The Fremmenik Trails
304
Nether Realm
Unlocked in the Stronghold Slayer Cave
305
Neverland
306
Newbie Melody
Unlocked at Tutorial Island
307
Night of the Vampyre
308
Nightfall
309
No Way Out
310
The Noble Robent
311
Nomad
312
Norse Code
Unlocked in Jatizo
313
Null and Void
Unlocked at the Void Knight's Outpost
314
Orge the top
Unlocked during The Fremmenik Isles, during the fight against the Ice Troll King
315
On the up
316
On the Wing
317
Oriental
318
The Other Side
319
Out of the Deep
320
Over to Nardah
321
Overpass
Unlocked in the Tiranwnn Overpass
322
Overture
323
Parade
324
Path of Peril
325
Pathways
326
Pest Control
Unlocked in the Pest Control Minigame
327
Pharoh's Tomb
328
Phasmatys
Unlocked in Port Phasmatys
329
Pheasant Pesant
Unlocked during the Freaky Forester Random Event
330
Pick & Shovel
Unlocked in the Motherlode Mine
331
Pinball Wizard
Unlocked in the Pinball Random Event
332
Pirates of Penance
Unlocked in the Queen stage of Barbarian Assault
333
Pirates of Peril
334
Poles Apart
335
The Power of Tears
Unlocked during the Tears of Guthix minigame
336
Prime Time
Unlocked during Elemental Workshop II
337
Principality
338
Quest
Unlocked at the Fire Altar
339
The Quizmaster
Unlocked in the Quiz Master Random Event
340
Rat a Tat Tat
341
Rat Hunt
342
Ready for Battle
Unlocked in the waiting room in Castle Wars
343
Regal
344
Reggae
345
Reggae 2
346
Rellekka
Unlocked in Rellekka
347
Right on Track
Unlocked during Forgettable Tale of a Drunken Dwarf
348
Righteousness
349
Rising Damp
Unlocked in the Brine Rat Cavern
350
Riverside
351
Roc and Roll
Unlocked during the fight against the Giant Roc
352
The Rogues Den
Unlocked in The Rogue's Den, located in Burthorpe
353
Roll the Bones
354
Romancing the Crone
355
Romper Chomper
356
Royale
357
Rune Essence
Unlocked in the Rune Essnece Mine
358
Sad Meadow
359
Saga
360
Sarcophagus
361
Sarim's Vermin
362
Scape Cave
363
Scape Hunter
364
Scape Hunter
365
Scape Main
366
Scape Original
367
Scape Sad
Unlocked in Wilderness
368
Scape Santa
369
Scape Scared
370
Scape Soft
371
Scape Wild
372
Scarab
373
School's Out
374
Scorpia Dances
375
Sea Shanty
376
Sea Shanty 2
377
Sea Shanty Xmas
378
Serenade
379
Serene
380
Settlement
Unlocked in the Mountain Camp
381
The Shadow
382
Shadowland
383
Shine
384
Shining
385
Shipwrecked
386
Showdown
Unlocked during Monkey Madness, during the fight against the Jungle Demon
387
Sigmund's Showdown
388
The Slayer
Unlocked in the Fremmenik Slayer Cave
389
Slice of Silent Movie
Unlocked during Another Slice of H.A.M
390
Slice of Station
391
Slither and Thither
392
Slug and bug Ball
393
Sojourn
394
Soundscape
395
Sphinx
396
Spirit
397
Spirits of the Elid
398
Splendour
399
Spooky
400
Spooky 2
401
Spooky Jungle
402
Stagnant
403
Starlight
404
Start
405
Still Night
406
Stillness
407
Storm Brew
408
Stranded
409
Strange Place
410
Stratosphere
411
Strength of Saradomin
412
Subterranea
413
Sunburn
414
Superstition
415
Suspicious
416
Tale of Keldagrim
417
Talking Forest
418
Tears of Guthix
419
Technology
420
Temple
421
Temple of Light
422
The Terrible Tower
423
Theme
424
Throne of the Demon
425
Time Out
Unlocked during the Maze Random Event
426
Time to Mine
427
Tiptoe
428
Title Fight
429
Tomb Raider
430
Tomorrow
431
Too Many Cooks...
432
The Tower
433
Trawler
434
Trawler Minor
435
Tree Spirits
436
Tremble
437
Tribal
438
Tribal 2
439
Tribal Background
440
Trinity
441
Trouble Brewing
442
Troubled
443
Troubled Waters
444
Twilight
445
TzHaar!
446
Undead Dungeon
447
Undercurrent
448
Underground
449
Underground Pass
450
Understanding
451
Unknown Land
452
Untouchable
453
Venture
454
Venture 2
455
Victory is Mine
456
Village
457
Vision
458
Volcanic Vikings
Unlocked in Neitiznot
459
Voodoo Cult
460
Voyage
461
Waking Dream
462
Wander
463
Warpath
464
Warrior
465
Warrior's Guild
Unlocked at the Warrior's Guild
466
Waterfall
467
Waterlogged
468
Way of the Enchanter
469
Wayward
470
We are the Fairies
471
Well Of Voyage
472
Where Eagles Lair
473
Wild Side
474
Wilderness
475
Wilderness 2
476
Wilderness 3
477
Wildwood
478
Witching
479
Woe of the Wyvern
480
Wolf Mountain
481
Wonder
482
Wonderous
483
Woodland
484
Work, Work, Work
485
Workshop
486
Wrath and Run
487
Xenophobe
488
Yesteryear
Unlocked in the Lumbridge Swamp
489
Zamorak Zoo
490
Zealot
Unlocked at the Water Altar
491
Zogre Dance
492
Zombiism