This article is about the cape. For the emote, see
Air Guitar
.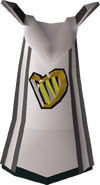 The music cape is obtained by players who have unlocked all non-holiday music tracks. It is obtained along with the music hood, and can be purchased from Olaf the Bard in Rellekka for 99,000 coins. Along with the purchase of the cape and hood, players will also unlock the Air Guitar emote.
The cape grants unlimited teleports to Falo the Bard. This is especially convenient for players doing master clue scrolls.
In order for players to trim the music cape, players are required to unlock all music tracks, including holiday event tracks. In addition, players are required to complete all the Achievement Diaries. After meeting the requirements, players can right-click on the cape and select the Trim option.
Requirements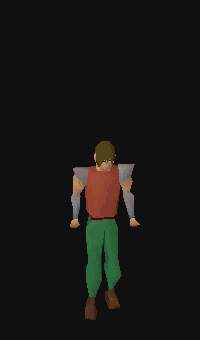 A list of all music tracks and locations can be found here.
(The music tracks for Armadyl and Bandos can be unlocked without entering the room, and therefore the levels required for those are not needed.)
The following tracks are not required to unlock the music cape:
Concept art
Trivia
Capes

 Agility (Hood) •  Attack (Hood) •  Hitpoints (Hood) •  Construction (Hood) •  Cooking (Hood) •  Crafting (Hood) •  Defence (Hood) •  Farming (Hood) •  Firemaking (Hood) •  Fishing (Hood) •  Fletching (Hood) •  Herblore (Hood) •  Hunter (Hood) •  Magic (Hood) •  Mining (Hood) •  Prayer (Hood) •  Ranging (Hood) •  Runecrafting (Hood) •  Slayer (Hood) •  Smithing (Hood) •  Strength (Hood) •  Thieving (Hood) •  Woodcutting (Hood) •  Quest point (Hood) •  Achievement diary (Hood) •  Music (Hood) •  Max (Hood)

Cape sellers

 Cap'n Izzy No-Beard •  Ajjat •  Surgeon General Tafani •  Estate agent •  Head chef •  Master Crafter •  Harlan •  Martin the Master Gardener •  Ignatius Vulcan •  Master fisher •  Hickton •  Kaqemeex •  Hunting expert •  Wizard Sinina •  Gadrin •  Brother Jered •  Armour salesman •  Aubury •  Duradel •  Thurgo •  Sloane •  Martin Thwait •  Woodsman tutor •  Wise Old Man •  Twiggy O'Korn •  Olaf the Bard •  Mac

Emote

Skillcape
Community content is available under
CC-BY-SA
unless otherwise noted.